Ohio city approves ambulance repairs
Village council approved repairs and improvements to one of the village's ambulances, totaling a little less than $50,000
---
Brian Haytcher
Star Beacon, Ashtabula, Ohio
NORTH KINGSVILLE, Ohio — At Monday night's council meeting, funds were approved for the refurbishment of one of North Kingsville's ambulances, and the village accepted a new volunteer firefighter.
Village council approved repairs and improvements to one of the village's ambulances, totaling a little less than $50,000. The money for the project is in a village fund, council member Ron McVoy said. Refurbishing the ambulance, which has 30,000 miles on it, will save the village money, Fire Chief Kevin Hubbard said.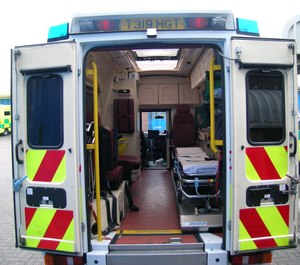 "The body is sound, the frame is sound, and there's no reason to go out and spend a couple hundred thousand dollars more for something that is unnecessary," he said.
Among the repairs are a new fuel tank, front and rear shocks, and a rear differential. The ambulance will also have some body work done, a cot lift installed, and it will get a fresh coat of paint.
Repairs are expected to take about three months, Hubbard said.
A fuel tank was also repaired on North Kingsville's other ambulance. Council approved the $2,850 cost of emergency repairs to the vehicle. The fire chief's car also needed emergency repairs, and $4,200 was approved to repair a rotted section of the frame.
"Something they're putting on the roads is killing our gas tanks," Hubbard said. "We're taking care of that. We're going to start getting them undercoated."
MiKayla Searles was accepted as an active member of the North Kingsville Fire Department on Monday, as well.
"She's great. She's a good medic, too," Hubbard said.
The North Kingsville fire department currently has 20 volunteer firefighters.
In other business:
• Funds were approved to send the tax administrator to an income tax seminar in Columbus in July, with the cost not to exceed $1,113.
• The village will continue to use Anthem for its heath insurance.
———
©2019 the Star Beacon (Ashtabula, Ohio)
McClatchy-Tribune News Service