Firefighters help deliver baby after saving man, dog across street
Firefighters first helped a man and his dog escape a house fire, and then went across the street to help deliver a baby girl
---
By Cliff Pinckard
Advance Ohio Media
CINCINNATI — Firefighters on Wednesday helped save a life and also helped a new one begin.
First, firefighters responded to a house fire at about 8 p.m., helping a man and his dog escape the home before putting out the blaze.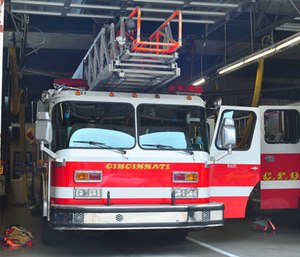 The man was treated at the scene for burns to his legs before he was sent to the University of Cincinnati Medical Center, WLWT Channel 5 reports.
As they brought the dog out of the house, a woman ran up to firefighters saying a family member had gone into labor in a house across the street, according to Local 12.
Firefighters and EMS workers then went to the home and helped deliver a baby girl. The mother and child also were taken to UC Medical Center.
No other injuries were reported.
Copyright 2018 Advance Ohio Media
McClatchy-Tribune News Service