Police car crashes into ambulance in front of Ill. hospital
The officer driving the police department vehicle was ticketed for failure to yield
---
By EMS1 Staff
QUINCY, Ill. — A police car crashed into an ambulance in front of an Illinois hospital Thursday afternoon.
The Quincy Police Department vehicle was leaving a private lot when it struck the Adams County ambulance carrying three occupants in front of Blessing Hospital, according to WGEM.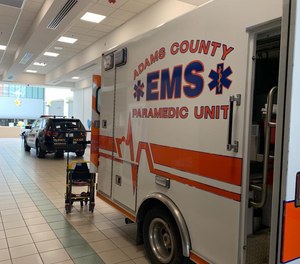 The officer driving the police car said both eastbound lanes of traffic had stopped and that other motorists had waved for him to go through as he prepared to travel westbound. However, when he turned, he collided with the rig traveling eastbound via the center turn lane.
Both vehicles were towed after the crash. The police officer and two of the ambulance occupants were taken to the hospital for treatment, including an 88-year-old woman, according to KHMO.
The police officer, Dominic Scott, was ticketed for failure to yield.