Va. ambulance overturned in hit-and-run
Two people inside the ambulance were injured and witnesses said they saw the driver of the other vehicle exit with a head injury
---
Jessica Nolte
The Virginian-Pilot
HAMPTON, Va. — State police are investigating a Thursday morning hit-and-run crash that left an ambulance on its side near the Hampton Roads Bridge-Tunnel.
Police were called to investigate the two-vehicle crash at 2:24 a.m. in the westbound lanes of Interstate 64 at the bridge-tunnel.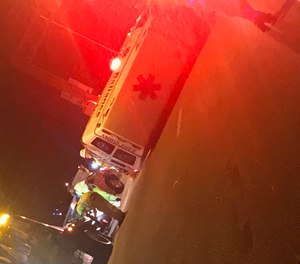 The police investigation found that a 2004 silver Mercedes Benz hit the back of a private ambulance, according to a news release. Police said the driver of the Mercedes Benz was traveling at "a high rate of speed" but did not specify how fast he was going.
Police said the impact caused the Alliance Service ambulance to overturn, injuring two people inside. Their injuries were not considered life-threatening.
The Mercedes was pushed into a jersey wall, and witnesses said they saw a male with a head injury leave the car, police said. Police have not identified the male or his age.
Police said it's not clear how he left the scene.
The Coast Guard, Hampton Fire and Rescue and Virginia Marine Resources Commission searched for the driver including checking the water, but he was not found, the news release said. The search was suspended around 8:30 a.m.
State police have asked anyone with information about the crash or the driver to call 757-424-6800 or email questions@vsp.virginia.gov.
———
©2020 The Virginian-Pilot (Norfolk, Va.)
McClatchy-Tribune News Service