LODD: Ind. EMT dies in ambulance crash
Mousa Chaban, 32, was partially ejected from the ambulance when it rolled onto its side after being struck by a car
---
By EMS1 Staff
MIAMI COUNTY, Ind. — An EMT died Monday morning when an ambulance transporting a patient was struck by a car.
WNDU reported that EMT Mousa Chaban, 32, was in the ambulance with colleague Christine Wesner, who was driving the ambulance and failed to stop at a red light.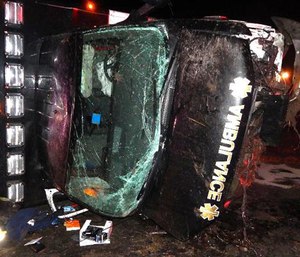 Driver Joseph Farrar collided with the ambulance, which rolled onto its side. Chaban was partially ejected from the ambulance and died from his injuries.
Farrar was transported to the hospital with a broken bone and his passenger suffered a minor head injury. The patient, a 5-month-old, was not injured in the crash.
The crash is currently under investigation.