MedFlight base closure leads to primary provider change in Ala. county
"After a thorough review and analysis of the area, and confirmation that the community needs can be fulfilled by our other area bases and aircraft"
---
Adam Smith
The News Courier, Athens, Ala.
LIMESTONE COUNTY, Ala. — Air Evac Lifeteam is now Limestone County's primary provider of emergency air transport following Air Methods' recent decision to close the MedFlight Huntsville base in Meridianville.
A statement from Air Methods said the decision was made "after a thorough review and analysis of the area, and confirmation that the community needs can be fulfilled by our other area bases and aircraft."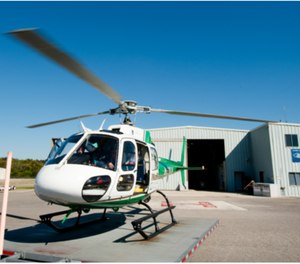 Zac Curtis, a program director at Air Evac's base in Tuscumbia, said first-responders and patients should not experience a gap in service or response time. MedFlight's base may have been geographically closer, but Air Evac has bases in Tuscumbia, Vinemont and Scottsboro in Alabama and Lawrenceburg, Lewisburg and Waynesboro in Tennessee.
The flight time from Lawrenceburg, Tuscumbia and Vinemont, which is near Cullman, is about 20 minutes to Athens-Limestone Hospital. Curtis said there is an additional "lift time" of seven minutes.
The company already had a relationship with Limestone County emergency officials. If MedFlight was tied up on another call, Air Evac was the second choice for air transport.
Though based in Missouri, Air Evac Lifeteam operates more than 130 bases in 15 states. It also operates the world's largest fleet of more than 150 Bell 206 Long Ranger helicopters and employs more than 2,800 people.
In addition to providing emergency air transport, Air Evac also carries blood and plasma in the event a patient has significant blood loss.
Curtis, who has been with the company for five years, was a flight nurse before he became a manager. Each base has its own mechanic, four pilots, four nurses and four medics. Staff members work different shifts and live at the base.
"The turnover is not very high. There are open positions from time to time, but it takes a lot of experience," he said. "The average clinical crew member has 12 years of experience on an aircraft."
Curtis explained those wanting to work for Air Evac as a nurse or medic should have at least three years of experience in a critical care field, either as paramedic or nurse. Prospective pilots should have at least 2,000 hours of training before being considered.
According to Air Evac, the company is also the largest membership-supported air medical service company in the world with more than 3 million members. Annual memberships are $85 per household. If any member of the household requires emergency air transport, there is no cost.
"That helps support us if they're not flown, but if they are, there's no bill," he said. "We have large membership numbers in a lot of areas."
Curtis said being able to provide top-notch service to Limestone County is important to him because he's now an Athens resident and it's where his family is.
"I don't have any doubt we'll be able to provide definitive care to Limestone County," Curtis said.
For more information, visit https://lifeteam.net.
———
©2019 The News Courier (Athens, Ala.)
McClatchy-Tribune News Service