Texas EMS agency earns accreditation by CAAS
The agency is one of nine Texas EMS systems to be granted the accreditation
---
By EMS1 Staff
WILLIAMSON COUNTY, Texas — Williamson County EMS was granted accreditation Aug. 31 by the Commission on Accreditation of Ambulance Services. Williamson County EMS is one of only nine out of 782 Texas EMS systems and 175 out of approximately 16,000 EMS systems in the United States to be granted this accreditation.  
 
The accreditation process requires the completion of a comprehensive application and on-site review by national experts in Emergency Medical Services. CAAS extended the accreditation to Williamson County EMS for outstanding achievement in compliance with national standards for best practices in the EMS industry.  
"Gaining such a prestigious accreditation demonstrates that we are true leaders in the EMS industry, and that we are committed to demonstrating excellence every day," Kenny Schnell, director of Williamson County EMS, said. "CAAS accreditation represents our commitment to the patients and to the community we serve. We view accreditation as another step in our journey toward excellence."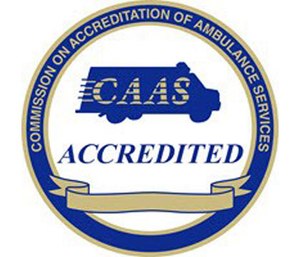 The primary focus of the Commission's standards is clinical and operational excellence. The Commission established national standards, also known as the "Gold Standards," which not only address the delivery of patient care, but the organization's total operation including relationships with other agencies, the general public and the medical community. The Commission's standards exceed state and local licensing requirements.
"Our staff has been key to the successful completion of this process," Schnell said. "I'm honored and blessed to work with such a fine staff, and I know they are just as proud to be part of this CAAS-accredited organization as I am."