'Hell's breaking loose': A 911 center under siege by Harvey
In the thick of a paralyzing storm and its aftermath, the weight of this swamped city's problems are landing at the cavernous 911 call center
---
Associated Press
HOUSTON — Some of the callers are panicking; others exude a strange serenity. One moment, Harvey's floodwaters are pouring into a home, the next a motorist is trapped on an inundated interstate. A woman goes into labor in a washed-out neighborhood, and a split-second later, a family seeks rescue from their attic. The pleas for help stream in hour after hour, call after call after call.
In the thick of a paralyzing storm and its aftermath, the weight of this swamped city's problems are landing at the cavernous 911 call center, where operators are racing to keep up as people dial in by the tens of thousands.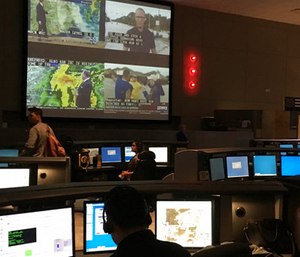 "This is like nothing we've ever experienced before," operator Erika Wells says, in a short reprieve between calls.
At its worst, from Sunday into Monday, some 75,000 calls poured in, more than eight times the normal 24-hour load, and those dialing sometimes endured long waits to reach an operator. Even as time passed and the volume dropped, more than 21,000 people called between Monday afternoon and Tuesday afternoon, when an Associated Press reporter was given exclusive access to observe work at the center. In a single hour, dozens of calls can arrive at a single operator's headset.
Wells reported for work on Saturday at 2 p.m. and worked a 20-hour stretch through Harvey's immediate aftermath before she finally stepped away at 10 a.m. Sunday. Like her colleagues, she has camped out at the center since. She works frenzied 12-hour shifts and sleeps each night on a cot in a darkened hallway with a cluster of female colleagues. It feels like some sort of strange summer camp.
She is 26, a lifelong Houstonian, and first set foot in the call center nine years ago, when she was a high schooler taking part in a co-op program. She's worked here ever since, through floods and Super Bowls and New Year's Eves, but never something quite like this.
Wells sits before four screens in a massive, dimly lit room thick with the hum of the dozens of others tending to Houston's misery. Giant displays hang from the back wall, projecting images from the world outside — streets turned to rivers, rescues from rooftops, and officials chattering about a storm that won't seem to go away. All the while, the calls stream in to her.
"Houston 911: Do you need medical, police or fire?" she asks each one.
After so many hours and so many calls, it all has become a blur. Still, some stick out: The man who calmly reported water had reached his knees and drowned his dog; the house packed with 10 people in desperate need of an escape; the woman whose baby chose the worst time to enter the world.
"I literally watched it go from a regular Saturday, to this water is everywhere, to now all hell's breaking loose," she says.
She cajoled callers to breathe and stay calm as she tried to collect the information she needed to help them. Some surprised her with their seeming nonchalance in the face of tragedy, like the man who was trapped in his home, and the woman whose husband had died. Each time she hung up or transferred the caller to a police or fire dispatcher, another came through, almost immediately.
"It was back to back to back to back," she says.
As operators have tended to strangers' tragedies, they've juggled their own lives. Though Wells' home is unscathed, on Monday she received word her ex-husband's home was not and that her children, ages 2 and 4, had to be evacuated by boat. Other operators have suffered severe losses to their homes. Wells said one operator needed to dial 911 to request a rooftop rescue.
They have taken to heart the suffering of others, too. LaKendric Westbrook, a call center supervisor, says some operators have been overwhelmed by the pain they hear through their headsets, and the limited relief they can offer.
"You just want to go through the phone and help them," Westbrook says.
On Tuesday afternoon, as 841 calls reach the center in a single hour, Wells encounters the ordinary and the harrowing. A little girl, with shrieks and laughter in the background, calls to say she needs a firetruck; clearly, she does not. A woman seeks help for her sister, trapped in her home with a sick baby. A burglary, an assault, a report of looting, mixed among repeated misdials.
"I need to get out of the house. I need help," a trembling voice pleads.
This is the slowest it's been in days, and still the pace is furious. A woman calls wondering if she's in danger, if the rising waters mean she should be rescued. A report of a woman seen drifting into chest-deep water on the freeway. A woman fearful for the fate of a friend.
"I got flooded," one woman says flatly. "Do you need to be rescued?" Wells asks. "Yes," she answers.
Wells shows no sign of stress as the calls come in. Her pink-manicured fingers type away the details of each person's report.
Inside this bunker, the tragedy feels both intensely personal and strangely distant. The news coverage plays over and over and the calls continue to come in, but it doesn't quite seem real — Wells hasn't yet emerged from this building or seen the damage first hand.
Her children have said they're proud of her, and she has felt a bit of pride too. She saw a tweet about the volume of calls coming in and thought to herself, "I was part of that."
A circle of new faces has emerged in the center of this sprawling space, a signal that new operators have arrived and Wells' shift has finally neared its end. The faint sound of a helicopter can be heard outside as a steady rain continues to fall. She misses her children, her bed, and soy chai lattes at Starbucks.
But after all that this storm has brought, she says, her colleagues feel like family, and this place feels like home.