Reflect and remember: How 'campfire moments' help us connect
It's critical for our relationships and emotional health to gather with friends, family and colleagues to share successes, challenges and losses
---
Throughout the pandemic, some of my favorite moments have been small, outdoor gatherings with socially distanced friends and family around a backyard campfire. Gazing into the flames, we've caught up with one another, laughed about recent events, and shared solutions to the personal or professional challenges we are facing. We've told jokes, sung songs, embellished "remember that time" stories and somberly toasted those who are no longer with us.
We've also sat silently, each lost in our own thoughts, watching the flames or staring up at the stars. It's in those quiet moments when I feel the pull of the past. Maybe it is a shared memory of the group I am with or a person who used to be part of our group. I also want to hold onto the feeling of being part of a small group, circled around a fire and feeling the warmth of the flames. The flames warm me physically, but being with others warms me emotionally.
For millennia, humans have been gathering around campfires to tell stories about their family, friends, accomplishments, pratfalls and history of their tribe or group. Much like us, they used the quiet moments around the campfire to reflect, strengthen bonds, mourn and celebrate. As a species, we have a unique capacity for self-reflection, storytelling and strengthening interpersonal bonds by being physically close and sharing memories. It doesn't seem accidental that the mesmerizing flames and the fire's warmth are central to humans gathering together.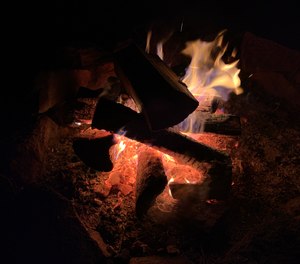 reflections on 9/11
The 20th anniversary of the September 11 attacks reminded me of how important it is to pause and reflect on loss, grief and healing. I read more articles and watched more videos in the weeks leading up to this year's anniversary than I had since the days and weeks immediately following the attacks. I was really drawn to refreshing the facts and gaining new insights about the terrorist attacks and recovery.
Twenty years is recent enough for us to tell and retell stories of survival, perseverance and resilience with accurate and intricate details. It is also enough time for most of us to continue transitioning from intimate grief to honoring the service and sacrifice of the lives lost. Beyond the knowledge gained, I was more taken by the emotions that came from revisiting and reflecting on the events of the attacks. It wasn't the information, as much as the feelings of togetherness I felt, especially when it was discussions with friends, colleagues and family. Discussions that started – much like they might around a campfire – with "Where were you …", "Who were you with … ", "What do you remember … " or "What did you do on the day after 9/11?"
how to create a 'campfire moment'
Our modern world gives us conveniences, like heating and air conditioning, that our ancestors could never have imagined, but it is still critical for our relationships and emotional health that we have campfire moments. Of course, a campfire moment doesn't need to have a literal campfire. Playing a board game or hand of cards, working a puzzle or sharing a meal or drink have some of the same collection of visual, sensory or olfactory stimuli as a small fire. Though a group meal served pot luck or family style may come the closest to the campfire experience, there is nothing quite like the ambiance, visual focus, physical warmth and emotional feel of an actual campfire.  
As you look to 2022, be intentional to create and participate in campfire moments for you, your family and your colleagues. The 9/11 anniversary is an obvious campfire moment, but don't limit yourself to national tragedies. Birthdays, anniversaries, new jobs and promotions, retirements, anniversary of major local incidents or department milestones are all worthy of initial celebration and ongoing remembrance through a literal or metaphorical campfire.
Ingredients for a campfire moment:
Put away your smartphone and other devices.
Make a circle and bring people into the circle.
Embrace darkness by turning down or turning out the lights.
Lower the music volume so everyone can be heard.
Invite others to share a story or memory.
Thanks for all you've done for your communities this past year, and thanks for your continuing service in the year ahead.
Stay safe and stay healthy.