Paramedic instructor on students' heroic efforts to help crash victim
As the students piled out of their vehicle to help, paramedic and professor David Fifer's first worry was for their safety
---
By David Fifer
We were relatively close to the tail end of a nine hour road trip, driving back to Richmond, Ky. from Baltimore, Md. in a university SUV. I was the chaperone for a group of Eastern Kentucky University Paramedic Science students and recent graduates attending the EMS Today Conference & Expo.
Our group was comprised of Ashley Brosmer, a senior in our Bachelor's degree program who was about halfway through the clinical portion of her paramedic education; Brad Harp, a recent graduate who works as a paramedic in Southern Kentucky; Leah Gaddis, a senior who had recently finished the clinical portion of our program and was working as a paramedic in Central Kentucky while finishing her academic degree; and her husband, Jon Gaddis, who had recently graduated and works as a trauma ICU technician at our regional Level 1 trauma center.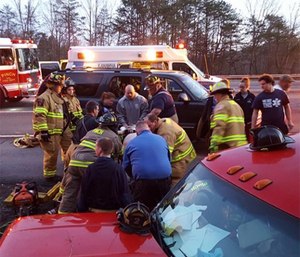 Just outside of Charleston, W.Va., I noticed that the traffic ahead of us was slowing rapidly to a crawl. It was the sort of chaotic pattern that experienced drivers recognize as being the initial result of a sudden accident: brake lights suddenly alighting, vehicles weaving slightly to avoid fender benders, and no obvious traffic control devices or emergency vehicles in sight.
Perhaps a minute or two later, we found ourselves alongside what appeared to be a recent single vehicle collision, "truck versus embankment." An older model pickup truck looked to have traveled off the right shoulder of the highway and into a small hillside, experiencing enough force that it seemed to have been lifted off the ground and nearly flipped.
Though the roof and windshield of the truck appeared intact, the front end was heavily damaged, the vehicle was facing the wrong way as it lay upright in a ditch, its frame was badly twisted and the contents of the bed and cab scattered about.
There were Good Samaritans milling around somewhat frantically, and some of them were wearing nitrile gloves. We'd learn a few minutes later that one of them was a nurse who had distributed the gloves to the others.
But there didn't appear to be any sort of organized effort or uniformed responders on the scene. Curiously, nobody appeared to be treating any patients despite their donning of basic personal protective equipment.
So, I stopped, and Jon rolled down his window in the rear passenger seat. "Hey," he said. "We're a car full of paramedics. Need some help?"
The reply from one of the Good Samaritans was immediate, from a face whose relief was evident: "Yes! He's hurt pretty bad!"
I angled the nose our Chevy Suburban out a bit in an attempt to provide some blocking just as a local sheriff's deputy pulled up behind us and began some more appropriate traffic control. Fortunately, the personal vehicles of the various Good Samaritans were still occupying the travel lane and shoulder behind us, providing additional protection.
Heightened sense of responsibility
As we all piled out of our vehicle, my first thought wasn't of the patient. Just as I stress to my students in the classroom and in simulations, it was of the safety factors. I was rapidly scanning the area for hazards and clues in a continuation of the "windshield survey" I had initiated as we rolled up on the scene.
As my students' chaperone, I felt a heightened sense of responsibility for that function beyond the normal imperative. Moreover, as likely the most experienced responder on the scene (aside, perhaps, from the sheriff's deputy), I felt that I needed to act in the role of the Incident Commander until additional professional responders arrived.
We all snagged some gloves from the nurse who had been handing them out (presumably she had a box in her car), and with great pride I watched as my students went to work as a team, operating on the common educational foundation they shared. Even Ashley, the least experienced among them, had already experienced hundreds of hours of simulation and clinical internship time, riding with EMS agencies throughout central, souther and eastern Kentucky.
As Jon and Brad headed to the truck to access the patient, Ashley and Leah began organizing the other Good Samaritans to collect a seemingly endless number of prescription pill bottles and personal papers that were strewn about the scene. I held back, initially, trying to maintain accountability of my students and keep an overall eye on all personnel on the scene.
Jon found the driver lying mostly in the passenger side floorboard, on his right side, with his head sticking partially out of the open passenger door and rotated upright. He was effectively wedged between the bench seat of the truck and dashboard, across the axle hump. Jon assumed c-spine stabilization and noted snoring respirations with a small amount of gurgling, so he applied a jaw-thrust maneuver to better position the patient's airway. The driver, our only patient, was unresponsive.
Brad began a blood sweep of the patient's upper body, fortunately coming up empty, but his exam was made challenging by the enormous amount of debris that was piled on top of the patient. It appeared that the gentleman had a bit of a tendency toward hoarding, and all manner of papers, toiletries, chewing tobacco cans, plastic bags filled with knick-knacks, books, maps, luggage and random personal effects were literally burying him.
That dynamic presented a scene safety consideration that I hadn't yet envisioned, but soon would.
The grip of a semi-automatic pistol
As Jon and Brad continued their care on the passenger side, I moved around to the driver's side, satisfied that Ashley and Leah were keeping the Good Samaritans out of the roadway and themselves out of danger. I let Jon and Brad know that I was entering the vehicle to assess the patient's lower extremities.
As I felt my way up his legs (somewhat blindly given the amount of stuff piled on top of him and his positioning), I felt a strangely familiar object: the grip of a semi-automatic pistol. Though I'm not a handgun owner or avid shooter myself, I'm familiar enough with firearms that the dimensions and texture in my palm immediately registered with me.
I further realized that it was unsecured. I carefully removed it from beneath him, and called for one of the more recently arriving sheriff's deputies to secure it.
After that discovery, we continued our physical exam with the utmost care. As we continued working in the cab, multiple knives and two additional firearms were discovered and secured: a revolver and a rifle pointing up from the backseat. There was nothing that seemed criminal or suspicious about all these weapons; just the possessions of a guy who appeared to keep most of what he owned in his truck.
Shortly after completing our initial assessment, local professional responders began arriving and we worked together to place airway adjuncts and package and extricate the driver. After helping to load him for transport, we piled back into our Suburban and continued our trip.
Real life EMS lessons
Our impromptu response was a great object lesson for my students on a number of core concepts:
Importance of scene safety and a systematic approach to patient care
Need to work within the care team while still being self-directed
Wisdom of keeping some basic first aid supplies handy if you're going to accept the responsibility of responding as a Good Samaritan while off-duty
As their instructor, it was incredibly gratifying to see how well they responded to an unexpected situation, combining their various degrees of experience and skill sets and performing in exactly the manner we teach them.
Several days after the incident, we were pleased to hear from our patient. He had experienced a medical emergency while driving and suffered a broken neck. We believe that emergency to have been a seizure, and his diminished level of consciousness to have been a postictal state. To the best of our knowledge, he recovered fully.