Top 10 EMS stories of 2014
Here's our editor picks for the top 10 EMS stories of the year
1. Ebola: What does EMS need to know

Ebola dominated the headlines the last few months of the year, and EMS1 coverage focused on what EMS providers need to know. From a practical standpoint, we highlighted the Centers for Disease Control guidelines and updates on PPE, and provided an in-depth look at how Grady EMS managed the first ground transport of an infected patient.
We also took a more philosophical approach with a column by Dr. Alex Garza on the role EMS should play in the fight against this virus. And although news on Ebola seems to have plateaued in the media, the epidemic continues in West Africa. We've been running dispatchs from a paramedic who is setting up an Ebola treatment unit in Liberia, and he gives a first-hand account of how it's being managed at its source.
2. Ferguson reacts to grand jury decision

The protests in Ferguson, Mo. over a white police officer's fatal shooting of black, unarmed 18-year-old Michael Brown put EMS and other first responders to the test. And a second round of protests over the grand jury decision not to indict officer Darren Wilson forced police, firefighters and EMS to put those lessons learned into action.
We covered this news from a scene safety perspective through interviews with Christian Hospital EMS Chief and EMS1 Columnist Christ Cebollero, who has led a team of dedicated providers in and out of the hot zones, and shared the challenges he has faced and his management techniques for preparing for civil unrest and responding to a riot.
Our EMS1 Video Producer Ray Kemp embedded with EMS and fire crews in Ferguson, and provided exclusive video coverage as well as EMS1 interviews that described his experiences. Finally, we looked at Ferguson from an emotional perspective through paramedic Katie Keeter, who gave a very personal video interview where she describes the anger and heartbreak of the riots.
3. Active search ends for bodies in Wash. mudslide

Rescue workers dug through debris for five weeks after a mile-long mudslide left a gaping cavity in what had once been a neighborhood, and the recovery efforts brought a volunteer firefighter to tears. This tragedy was also a story about a community coming together, and rescuers working day and night to bring closure to countless families.
At times digging with bare hands, responders recovered 41 bodies out of the 43 missing. The end of the search was marked by a large gathering that included 200 EMS providers, firefighters National Guard members and volunteers; the ceremony was punctuated by a lone bagpiper playing "Amazing Grace."
4. DC lieutenant retires without facing disciplinary action

The news about a D.C. fire lieutenant accused of not helping a man who died across from her firehouse made national headlines for weeks. Lt. Kellene Davis came under fire after Cedric "Cecil" Mills Jr., 77, suffered a fatal heart attack, and his daughter testified that she ran to the Engine 26 station for help and her pleas went unanswered.
Davis faced six separate neglect of duty charges, including failure to command her unit and making false statements. Her retirement was approved before a board made a decision in the case, so she did not face any disciplinary action.
5. Pregnant, brain-dead Texas medic off life support

The case where a Texas paramedic sued a hospital for keeping his pregnant, brain-dead wife on life support against her family's wishes sparked a national debate about the beginning and end of life. While Marlise Munoz, who had also worked as a paramedic, was considered legally and medically dead, many argued that she should be kept on life support for the sake of the fetus she was carrying.
A judge ruled that the hospital was misapplying a state law. She was taken off life support and the 23-week-old fetus was not born.
6. $5 billion Medicare bill for ambulance services points to fraud

A report by the U.S. Department of Health and Human Service that identified ambulance service as one of the biggest areas of overuse and abuse in Medicare created waves in the EMS community. It showed that Medicare paid $5 billion to ambulance companies in 2012, and led to both the government cracking down on fraud, and a call from EMS for better self-policing. Our EMS1 Advisor Art Hsieh asked, "Will EMS insurance fraud ruin it for the rest of us?"

7. Vegas Fire, AMR reach deal over patient transport policy

This news highlighted a public vs. private EMS dispute when a transport policy change led to more medical calls being transferred to Las Vegas Fire & Rescue, instead of American Medical Response.
The change led to a six-month duel between the agencies that came down to reports and maps being scrutinized and criticized, a refusal to share information, and accusations of 'cherry picking' calls.
The departments eventually reached a deal where Las Vegas Fire would respond to more serious emergency calls, while AMR would respond to the less serious calls.
8. Video: Beaten medic Bryan Stow 'happy to be alive'

The EMS community rallied behind paramedic Bryan Stow who suffered a brain injury in a brutal 2011 beating at a San Francisco Giants game. This year his attackers were sentenced to eight and four year termss in prison after pleading guilty to the attack. Stow's family gave emotional testimony at the trial, describing how it has left him permanently disabled and requiring 24-hour-a-day care.
However, it was also great to see the recovery milestones Stow has made. In an interview at his home with ESPN, he said he enjoyed "waking up every morning knowing I'm here," but that he's also not satisfied with his progress.
"I want to run," he said. "I want to walk, like a normal person."
9. Tech firms offer to replace Detroit firefighters' pop-can alert system

The Detroit Fire Department demonstrated just how bad things can get with a lack of funding when a news article described how responders got emergency alerts: A pop can filled with coins or screws gets knocked over by a piece of paper that rolls through a fax machine. The rattle signals an emergency.
The method sounded an alarm nationwide, and led to an outpouring of public support to update the department's equipment and technology. Software companies stepped up with offers to donate modern-day alert systems in what Deputy Fire Commissioner John Berlin called "overwhelming," and "humbling."
10 .3 things yesterday's 2 MCIs can teach medics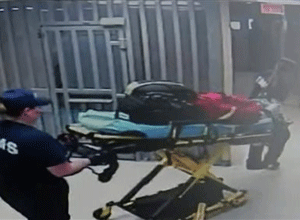 First, a gas leak triggered an explosion that flattened two NYC apartment buildings, killing at least seven people and injuring more than 60. Then, a suspected drunk driver fleeing police crashed through barricades at a Texas festival and plowed into a crowd, killing two and injuring 23.
Both of these events would qualify as 'top stories' on their own, and together they are a somber reminder of the need for emergency responders to be able to respond effectively to large-scale incidents.
In the spirit of reflection as the New Year approaches, we decided to look at these incidents from an angle of what they can teach us as we enter 2015.