Medic who cut $8K diamond ring from dead woman's finger to pawn it pleads guilty
Lisa Darlene Glaze was arrested Monday, weeks after the family of Gloria Robinson realized the woman's nearly $8,000 ring was no longer on her finger when she was pronounced dead Oct. 16
---
David Matthews
New York Daily News
A paramedic who cut a diamond ring off the finger of a dead patient and pawned it has pleaded guilty nearly two years after she was arrested.
Lisa Darlene Glaze was arrested in November 2019 in Arkansas shortly after the family of Gloria Robinson noticed she was not wearing her $8,000 diamond ring when she was pronounced dead at a hospital in Hot Springs. Robinson's family asked hospital staff and Glaze herself why three of the woman's rings were missing when they were given Robinson's personal effects but did not receive a response.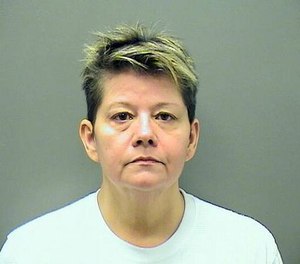 Lisa Darlene Glaze was arrested Monday, weeks after the family of Gloria Robinson realized the woman's nearly $8,000 ring was no longer on her finger when she was pronounced dead Oct. 16 at CHI St. Vincent Hot Spring hospital, according to the Sentinel Record. Robinson had been rushed to the hospital on account of an undisclosed medical emergency that proved fatal.
Two days later, an anonymous parcel arrived at a funeral home and contained two of Robinson's rings, but not her most valuable one. Police later found the ring, valued at $7,946.63, on sale for $45 at a Hot Springs pawn shop, and a shop employee confirmed Glaze sold the ring to the store.
Glaze, 51, pleaded guilty to a felony count of theft by receiving more than $5,000 but will avoid jail time with a sentence of six years' supervised probation. She will also pay a small fine and court costs.
Glaze had previously faced up to 10 years in prison if she had been found guilty at trial.
©2021 New York Daily News. Visit at nydailynews.com. Distributed by Tribune Content Agency, LLC.
McClatchy-Tribune News Service