Okla. EMSA struggles to reduce ambulance wait times
Officials are implementing several changes, including new leaders, signing bonuses and a "earn while you learn" EMT program
---
By Rachel Engel
OKLAHOMA CITY — Amid staff shortages, EMSA is considering how to reduce ambulance wait times.
According to EMSA's August compliance report, three of the largest districts are far below the required response time level of 90% for Priority 1 calls: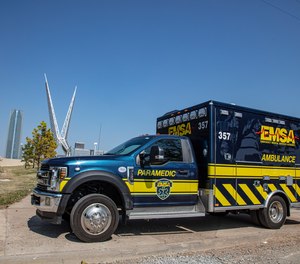 District 1 in Oklahoma City: 63%
District 2 in Oklahoma City: 51%
Edmond, Oklahoma: 39%
EMSA officials say the biggest challenge is finding the staff to fill vacant spots, KOCO 5 reported.
"Staffing problems and response-time problem," Jim Winham, EMSA president and CEO, said. "Not an excuse; understand the boat stops right here."
The organization is considering a number of initiatives to decrease response times and ease the workload of providers, including a shakeup of EMSA leadership. The current EMSA chief of operations is set to retire soon, and the chief compliance and revenue officer is set to leave, as well.
An interim chief compliance officer was selected at the latest EMSA board meeting.
In addition, the agency is offering $25,000 signing bonuses and relocation assistance to individuals from Arizona, Texas and California.