Pa. officials to distribute free naloxone to prepare for holidays
State officials are distributing 5,000 free kits of naloxone to 80 locations during a holiday season that often ushers in a surge in opioid overdoses
---
By David Hurst
The Tribune-Democrat
HARRISBURG, Pa. — State officials are distributing thousands of free kits of naloxone across Pennsylvania next week during a holiday season that often ushers in a surge in opioid overdoses.
The Wolf administration is providing 5,000 kits of the opioid overdose reversal drug—each containing two doses of naloxone—to 80 locations across the state, including state health centers in Richland Township, Somerset and Bedford.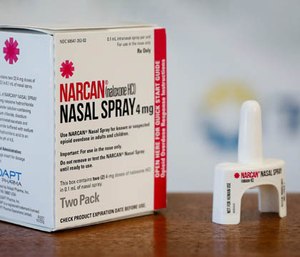 The Johnstown area Department of Health office is located at Suite 1 of 184 Donald Lane.
And on Dec. 13, as part of Stop Overdoses Week in Pennsylvania, the kits will be offered to anyone at no charge between 11 a.m. and 7 p.m., Department of Health spokesman Nate Wardle said.
"This is something that's been several months in the making, but we know there's a benefit in having this opportunity available during the holiday season," he said.
For some in recovery, or still struggling with addiction, it can be a stressful time. People may be going home to friends, family and old temptations, Wardle acknowledged, "and that's not just a Johnstown problem. It's all across the state."
The kits being distributed are designed to be administered as a nasal mist.
"Keeping naloxone in your home, work or even in your car can make a difference between someone getting into treatment or dying from this disease," Gov. Tom Wolf said in a release.
Locally, Cambria and Somerset county officials have touted naloxone, often marketed under the Narcan brand name, as one part of the puzzle to battling the region's opioid crisis.
Over the past few years, EMS, police officers and hospital staff have all begun carrying the drug. Partners in the Cambria County Drug Coalition have worked to educate people on the value of naloxone as a way to save lives, and then streamlined ways to steer users to support, such as counseling, medical care and rehabilitation opportunities.
Figures show that in recent years, Cambria County's fatal overdose totals have spiked in November and December.
According to monthly totals provided by Coroner Jeff Lees' office, 14 of the county's 40 fatal overdoses in 2014—35 percent of the yearly total—occurred in the last two months of that year. In 2016 and 2017, the county averaged 8 1/2 fatal overdoses a month in November and December, a rate that exceeded the yearly average.
"Whatever the reason for it, the numbers speak for themselves," Lees said.
The county does not have any confirmed overdose deaths from Nov. 1 through Thursday in 2018, but six deaths are awaiting toxicology results.
Year-wide numbers remain down from previous years in Cambria County, and Lees credits a regional approach to battling the opioid epidemic.
"Our first responders—fire, police, EMS and hospitals—are doing one heck of a job," he said. "The education and prevention efforts by the organizations in the drug coalition, as well as the news media, are making a difference. They're letting people know that there are resources out there."
That includes spreading the word about naloxone, he added.
Wardle said that's evident across Pennsylvania. Emergency responders saved 12,000 lives in 2018 alone, he said. And with a free shipment en route to areas that need it, it could save more over the holidays, he added.
"It is impossible to get someone into treatment who is dead," Secretary of Health Rachel Levine said. "Every Pennsylvanian has a role to play as a potential first responder, and can save a life by having naloxone on hand and using it if they come across someone who has overdosed."
Copyright 2018 The Tribune-Democrat
McClatchy-Tribune News Service