Honorees for 2020 National EMS Weekend of Honor announced
The National EMS Memorial Service will recognize 24 EMS providers from 15 states who died in the line of duty
---
By Laura French
WASHINGTON — The honorees for this year's National EMS Memorial Service (NEMSMS) during the National EMS Weekend of Honor have been announced, along with additional details about the weekend's events.
NEMSMS has posted the list of 24 honorees from 15 states on its website. Honorees include Rostraver Paramedic Supervisor Matthew Smelser, from Pennsylvania, who was struck and killed while responding to a crash scene in January; AMR Paramedic Jennifer Hesselbein, from Mississippi, who died in December due to complications from injuries sustained after being struck while helping a patient in 2013; and Paramedic Maddox Burts, Flight Nurse Rob Cartner and Pilot Glen Morthorpe, the three crewmembers killed in the Medevac Alaska plane crash in November.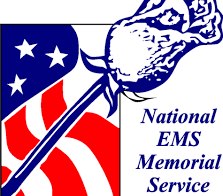 The memorial weekend will take place May 15-17 at Gaylord National Resort & Convention Center in Oxon Hill, Maryland. The memorial service will be held on the evening of May 16 following the National EMS Memorial Bike Ride tribute on May 15.
NEMSMS's free annual Line-of-Duty Death Seminar, open to all EMS, fire and law enforcement personnel, will run from 8 a.m. to 3:30 p.m. on May 15.
A "Tree of Life" memorial will be on display throughout the weekend, which serves as a temporary EMS memorial until a permanent memorial is established. In 2018, a law was signed allowing the National EMS Memorial Foundation to build a permanent memorial at the nation's capital.
"This was accomplished after nearly 10 years of hard work and commitment by the Foundation," said National EMS Memorial Service President Jana Williams. "We applaud our partners at the National EMS Memorial Foundation on this extraordinary accomplishment and continue to support them as they work tirelessly to bring a permanent memorial close to reality."
The end of the memorial weekend will mark the beginning of National EMS Week, which runs May 17-23.