Lebanon marks 1-year anniversary of Beirut blast that killed 10 first responders
Thousands march in honor of those killed, as a fire lieutenant serves as "consoler-in-chief"
---
By Rachel Engel 
BEIRUT, Lebanon — Thousands of people marched Wednesday in honor of those killed one year ago in a catastrophic explosion at the port of Beirut.  
The Aug. 4, 2020, port fire caused one of the biggest non-nuclear explosions in history after igniting hundreds of metric tons of ammonium nitrate, which is commonly used in fertilizer or bombs, Middle East Eye reported. Hundreds were killed in the blast, including 10 first responders.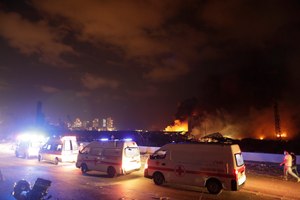 The marches were also a protest of the Lebanese government, which many demonstrators say is at fault for the lack of transparency regarding the blast and why it happened. 
"They sent our firefighters to their deaths," one protester was quoted as shouting through a loudspeaker. "We want all of them prosecuted." 
The death of the nine firefighters and one paramedic killed in the blast was a flashpoint for many protesting.  
"I chose to march for the fire brigades, because it's the most significant for me," one person, identified only as 'Alex,' told Middle East Eye. "Firefighters were the first ones who went to help, and they lost their lives." 
Further, First Lieutenant Ali Najem of the Beirut Fire Brigade has played the role of "consoler-in-chief" -- "a role Lebanon's political leaders have relinquished due to their unpopularity," reported France 24.  
The responding firefighters were stationed at the Karantina fire station, which has "turned into the Ground Zero of the Beirut blast," and a mourning spot for loved ones of those killed in the explosion.  
"Every day they come here, every day they cry here, every day they shout from here, demanding an investigation," Najem told France 24. "They ask us, 'Why was my child, my father, my brother killed?' They want to know. I hope to God to know. But, in one year, there's been nothing." 
If the brigade had known about the contents of the port, a different plan of action would have been ordered.  
"Had they told us what was inside, we would have conducted an evacuation of the area," Najem said. "Every fire is different and there are different ways that you can deal with it. In our world, there will be more fires, but we have to know first what we are dealing with to keep our firefighters safe and keep the public safe."  
---

Read next
Beirut and beyond: Planning for explosives in your community
4 steps to prepare for a fire involving hazardous or potentially explosive materials