9 more bizarre car crash calls
We asked readers to share some of the weirdest incidents they've witnessed or responded to, and the results are in
---
From patients walking away from crazy crash scenes, to strawberry-riddled roadways and trucks stuck in trees, it's clear that we've only scratched the surface of all the unusual, amusing and puzzling calls that our EMS1 readers have to share. Check out our best responses below. And if you have a bizarre incident of your own, be sure to post it in the comment section. 
1. "I had two drunk sisters go for a joyride in their parent's Jag and lose control in a corner going about 70 mph. [The car] struck the tree right behind the front seats and split the car in two. The front of the car was off the side of the road, and the back of the car was about 100 feet down the road. Both self-extricated and the driver was a minor injury and the passenger refused care."  — Jered Dahlgren
2. "I responded to a 'male thrown from vehicle." I arrived to fine one drunk man with road rash and a knocked out tooth who explained that he was so drunkenly annoying that the other people in the car threw him out as they were driving down the highway." — Eric Peace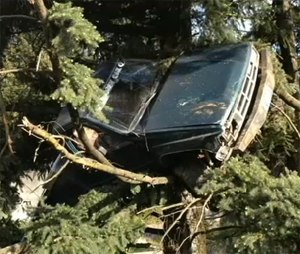 3. "I had a tractor trailer full of five gallon buckets of paint cross train tracks, then realize he went the wrong way and attempt to back up across the tracks – getting stuck just in time for a full commuter train to strike the trailer at 65 mph. To say that there was paint everywhere is an understatement." — Dane Grenier
4. "Two semi-trucks carrying 500,000 bees each rear-ended each other with two cars between them on the freeway. Three dead, and we had to 'make it rain' on the bees to keep as many as possible from flying and stinging us." — Ryan Gephart
5. "I worked a wreck once that was caused by the driver of one car eating a literal knife and fork meal on a plate while driving. Everyone else in the car, including four unrestrained kids in the back seat, were eating that way too: Full on chicken, mashed potatoes, green beans, corn on the cob, and cake. There was food everywhere … we found some cake crammed into the door handle, the windshield smeared with potatoes … it was weird. All minor injuries in that car, but the other driver was serious." — Kelly Reagan Tudor
6. "Strawberry truck wrecked. Smashed strawberries all over the ground. I thought it was blood and guts when I pulled up." — Heidi Hollis Baker
7. "Had a rollover on the expressway. When we arrived we found a station wagon that had rolled several times, detritus all over the roadway. Walking up doing my scene survey, I noticed there was blue gooey liquid all over the car. I stopped my partner for a second thinking this might be a hazmat situation. Then the smell hit us: it was 'summer rain,' I think.
They had just went shopping and in the back was one of those super size j ugs of laundry detergent that had ruptured in the crash, spilling contents everywhere. All six patients were covered in it, including in their eyes. To top it off, the only one who spoke English was a priority TBI unconscious. Two years later I had to do a deposition for it because the cause of the accident was a blowout and the car had Firestones on it." — George Kelsey
8. "I witnessed one when I was six. My dad and I were driving south on I-35 towards Dallas and we happened to see a drunk driver swerving all over the road. This was way back before cellphones became widespread, so all we could do was follow him.
We stayed behind him for about 20 miles when the drunk sideswiped a vehicle in the right lane, over-corrected, went into the left wall, and came back across the right side of the highway hitting the guardrail. At this point, the truck went airborne and landed upside down – directly in front of a police officer who was stopped talking to a security guard outside an office building." — Andrew Tucker
9. "Not my call, but it happened in my county right after I got hired, and it was all the buzz for a while. Crews were called for a reported truck wrapped around a tree … 10 feet up. The driver was nowhere to be found. I never found out the resolution to the story." — Kieran Alexander Henthorn