PRESS RELEASE
Technimount System to partner with a new distributor in New York and Vermont states
---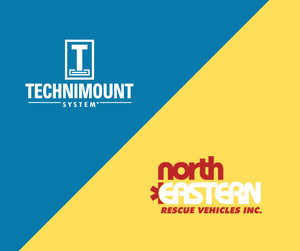 QUEBEC CITY, Canada — Technimount System has recently developed a new partnership with North Eastern Rescue Vehicles (NERV). Specialized in new and used ambulance sales and best in industry "to your door service", NERV is one of the largest independent ambulance dealers in the country. Based in Syracuse, New York, NERV is now distributing Technimount System's products across New York and Vermont states.
Our President, Carl Bouchard says: "Technimount is excited to collaborate with NERV and its amazing team of dedicated sales representatives. From the beginning, NERV has shown a real commitment in our products and we feel lucky to count them as distributor."
"From the moment I was presented with the Technimount System I was certain that this was the best in class line of products that would help our customers secure equipment and immediately impact safety in our vehicles. I am confident when our customers see the ease of use, and the quality and innovation that Technimount brings to equipment securement they will be as excited as we at NERV are." Bob Reilly, President of North Eastern Rescue Vehicles said.
Technimount is looking forward to bringing its safety system to NERV customers throughout New York and Vermont.
About North Eastern Rescue Vehicles
North Eastern Rescue Vehicles, Inc. is one of the largest independent ambulance dealers in the country. Their family of quality products includes: Wheeled Coach, Road Rescue, Demers Ambulances, and the Braun product line in all of Vermont & NY. NERV has 10 extremely qualified salespeople serving New York and Vermont and its business has been built through service, one customer at a time. North Eastern Rescue Vehicles, Inc. strives to be the one-stop source for all our customers' needs.
Source: Robert Reilly
President, North Eastern Rescue Vehicle
http://nervinc.com/

About Technimount System
Technimount System is a manufacturer of bracket mounting systems for portable medical devices. They offer the only universal mounting solution that allows the flexibility to be used with different brands of portable medical devices for ambulances, stretchers and hospital environments and different applications. This gives safety to the patients and crew in the EMS and hospital markets.

Request more info from Technimount E.M.S.
Thank You!