National Institute of Standards and Technology bestows $1M in awards at competition
The CommanDING Tech Challenge was designed to encourage the development of advanced incident command dashboards for first responders
---
By Leila Merrill
FireRescue1/EMS1
GAITHERSBURG, Md. — The U.S. Department of Commerce's National Institute of Standards and Technology (NIST) recently announced the winners of the fourth and final phase of its Command Dashboard Integrating Next-Gen Technology (CommanDING Tech) Challenge.
The competition was designed to encourage the development of advanced incident command dashboards for first responders, with improved user interfaces and access to data such as video, sensor and map data, as well as indoor tracking and video analytics.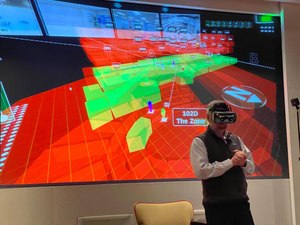 "The CommanDING Tech challenge put prototypes of next generation incident command dashboards into the hands of first responders," said Scott Ledgerwood, the UI/UX portfolio lead for NIST's Public Safety Communications Research Division, in a news release. "The winning dashboards allowed incident commanders to take action and maintain situational awareness when responding to complex incidents. It's exciting to see how this research can impact the public safety mission, and we look forward to watching these teams move forward in the marketplace." 
The final phase of the competition was held at the FedEx Institute of Technology at the University of Memphis on March 7-9. Contestants were judged on UI/UX design, innovation, use of technology, commercial viability, and effectiveness during simulated live scenarios. As a result, four teams were awarded a total of $1 million in cash prizes.
The first place winner was Headwall VR of Beltsville, Maryland, which was awarded $130,125 for creating a digital twin of a command center that can be quickly and compactly deployed in a virtual or mixed reality headset.
Second place went to BadVR, Inc. of Los Angeles, California, which was awarded $96,000 for its immersive sandbox environment that allows commanders to place and rearrange data visualization components with live collaboration.
Third place went to TurnRock Labs of Seattle, Washington, which won $52,750 for its comprehensive decision-support operations and forecasting environment called SpaceJam.
Finally, Engineering Dynamics of Silver Spring, Maryland, won $34,625 for its incident command dashboard consisting of a tactical map and video feeds.
All finalists were invited to demonstrate their solutions at 5x5: The Public Safety Innovation Summit, a June 2023 event hosted by NIST and FirstNet Authority.