Panasonic Whitepaper Download: Rugged detachable laptops a new option for mission critical workers
How do you determine which technology, laptop or tablet, best meets your needs?
---
Whitepaper provided by Panasonic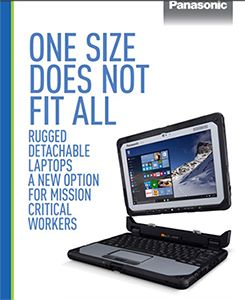 Mission-critical workers rely on mobile technology in a range of extreme environments where device failure is not an option. However, with so many "ruggedized" mobile computers on the market, it can be challenging to determine which technology, laptop or tablet, will best meet their needs. New rugged detachable laptops are emerging that offer the best of both worlds in a single device. This whitepaper will take a close look at the usage modes of the fully rugged detachable Panasonic Toughbook 20 laptop, along with examples of different tasks military and EMS workers may encounter on the job.