PRESS RELEASE
Rescue Essentials Announces the launch of ICE (In Case of Emergency) Buckets & Bags
---
Rescue Essentials is pleased to announce the introduction of two new products designed for the Urban Preparedness market. The Rescue Essentials I.C.E. (In Case of Emergency) Buckets and I.C.E. Bags were created to address the most pressing needs of individuals or a family of four, faced with an urban disaster.
The Rescue Essentials I.C.E. (In Case of Emergency) Bucket™ is a comprehensive solution for a four-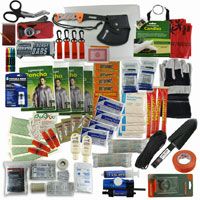 peson household, containing a broad range of items that are essential in an emergency. Concerns of water, shelter, communications, lighting and even food are addressed in this unique package of life-saving supplies. The I.C.E. Bucket is contained in a bright yellow 4-gallon bucket, with contrasting red lid and a highly visible label, identifying it as an "In Case of Emergency" kit. The label shows a complete list of the kit's contents, and another checklist is included inside the bucket, showing expiration dates for all dated product within the kit. Lids are sealed with shrink wrap so the kit can be stores and original unopened condition is assured. The bucket itself can serve a number of purposes, and Rescue Essentials has filled it with a comprehensive selection of the most sensible, highest quality products to enhance survival and comfort in the wake of a disaster.
The I.C.E. Bag is an individual-specific kit that can serve as an adjunct to the I.C.E. Bucket, to be kept in the home or vehicle. Again we selected the highest quality products of their type for inclusion in the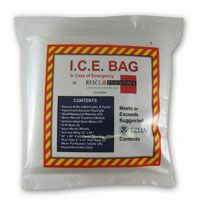 assortment, staying mindful of cost, utility and ultimate importance to a person shut off from infrastructure with little chance of a short term rescue.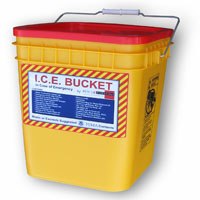 Company President Phil Carey commented that this project had been on the board for over two years, and that the challenge was to assemble contents that were not just a random collection of whistles, light stick and emergency blankets, but rather a logical set of utilitarian tools of real importance. "Urban preparedness has been a difficult category for many consumers to sort out, and we have made every effort to ensure that what they are getting with the I.C.E. products represents significant value." The rescue Essentials team spent many hours adding and eliminating products to reduce redundancy and provide for as many contingencies as possible. I.C.E. products are of the highest quality, and the Company stands behind that.
About Rescue Essentials:
Rescue Essentials is an internet based manufacturer and distributor of emergency medical products from first aid basics to advanced trauma treatments. Rescue Essentials offers top quality products at extremely affordable prices, delivered in a timely manner with flat rate $4.99 shipping (to USA addresses) regardless of the size of the order. Their unique approach has made Rescue Essentials a favorite of EMS personnel, law enforcement agencies, elite security forces and outdoor adventurers alike.

Request more info from Rescue Essentials
Thank You!