Webinar: How to provide EMS care for traumatic brain injuries like a pro
Learn how prehospital providers can play a key role in determining the outcome of TBI patients
---
Sponsored by Philips 
Traumatic Brain Injury (TBI) accounts for 2.5 million emergency department visits and over 50,000 deaths in the United States annually. There is growing evidence that the management of TBI in the early minutes after injury profoundly impacts the outcome. EMS providers operate in the ultra-acute setting, providing the first line of care for TBI victims when treatment may matter most.  Thus, EMS professionals must know the key points of the National EMS TBI Guidelines: preventing hypotension, hypoxia, and hypocapnia in TBI patients.
Fill out the form below to watch the on-demand free webinar, presented by our subject matter expert on EMS TBI guidelines, Dr. Dan Spaite, who is the distinguished research chair of emergency medicine at the University Of Arizona College Of Medicine. During this hour you will learn about: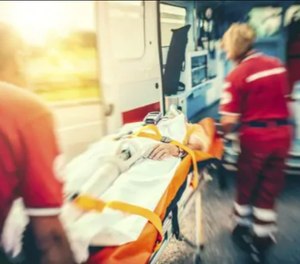 The pathophysiology of TBI
The three "h bombs" of TBI
The latest findings from the Excellence in Prehospital Injury Care (EPIC) project.
Meet our featured presenter
Dr. Daniel Spaite is a tenured professor and holds the distinguished chair of emergency medicine at the University Of Arizona College Of Medicine. He is a board-certified emergency physician and has been an EMS medical director for multiple fire departments and air medical transport programs over the last 25 years. He is the director of EMS research at the Arizona Emergency Medicine Research Center. Dr. Spaite has published more than 100 scientific articles and has presented his research on EMS, cardiac arrest, trauma systems, EMS outcomes analysis and EMS cost analysis at scores of conferences internationally. In 2010, he was awarded the Ronald Stewart, MD Career Award by the National Association of EMS Physicians. It is the highest honor awarded by NAEMSP and is given for "outstanding contributions in prehospital care and the development of quality EMS throughout the world."
Dr. Spaite has been the principal investigator or a co-investigator for many key efforts related to the evaluation of EMS systems: The Ontario Prehospital ALS Study (OPALS), the NIH-funded EPIC prehospital traumatic brain injury study, the RAMPART prehospital status epilepticus trial, the EMS Agenda for the Future, the NHTSA Uniform Data Consensus Conference, the EMS Research Agenda, the EMS Outcomes Project (EMSOP), the EMS Cost Analysis Project (EMSCAP), and the NHTSA-sponsored development of a national model for evidence-based guidelines in EMS.