PRESS RELEASE
New York Mets, in partnership with the National EMS Memorial Foundation, to host EMS Appreciation Night at Citi Field
---
Join the New York Mets for the annual EMS Night as they take on the Cleveland Guardians on 5/21!
CORONA, N.Y. — Show your support for Emergency Medical Service while enjoying a Mets game at Citi Field. Sit together with fellow EMS members, family, and friends in our Baseline Box, Left Field Landing, or Promenade Reserved seating.
A portion of each ticket sold through this online offer will benefit The National EMS Memorial Foundation. Groups of 15 or more are welcomed on the Right Field Scoreboard and each group leader receives a voucher for two free tickets to another game (subject to availability; blackout dates may apply)!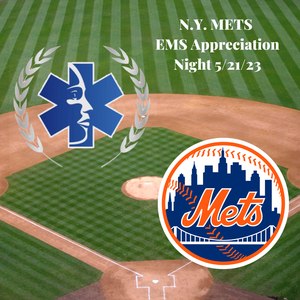 Bullpen Plaza Picnic Package tickets include a 1.5-hour food & drink package in the Bullpen Plaza (located next to the Shea Bridge and down the stairs) running from 5:40 pm until First Pitch at 7:10 pm.
For more information or to purchase a group for 15+, please contact Wayne Wang at 718-559-3194 or wwang@nymets.com.
ABOUT THE COMPANY
The National EMS Memorial Foundation is exclusively authorized to establish the National EMS Memorial in Washington, D.C. The Memorial will recognize the ongoing commitment, service, and sacrifice of the Nation's EMS providers killed or injured in the line of duty, and all that continue to serve. The National EMS Memorial will honor EMS providers across all service delivery models including federal, tribal, military, state, volunteer, local, and private EMS.

Request more info from The National EMS Memorial Foundation
Thank You!