PRESS RELEASE
410 Medical announces launch of LifeFlow Rapid Infuser
---
DURHAM, N.C. — 410 Medical, Inc., a medical device company focused on developing innovative technology for the resuscitation of critically ill patients, today announced the U.S. commercial launch of the LifeFlow® Rapid Infuser. Designed to help overcome common barriers to fluid delivery, LifeFlow may be used to respond to a variety of pediatric, adult and military emergencies.
LifeFlow is an easy-to-use device that allows health care providers to rapidly and efficiently deliver fluids to critically ill patients with conditions such as sepsis and shock. LifeFlow allows a user to deliver 500 milliliters of fluid to a patient in less than two and a half minutes.
"We know that early and aggressive fluid therapy can be one of the most important interventions in life-threatening illnesses like sepsis," said Dr. Mark Piehl, co-founder and chief medical officer at 410 Medical and pediatric intensivist at WakeMed. "Our most common infusion methods are often slow and ineffective in emergency situations, and currently available rapid infusion techniques are complex and expensive. The LifeFlow Rapid Infuser offers an intuitive and affordable solution to this critical challenge."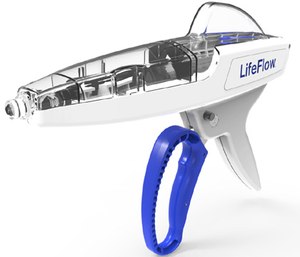 LifeFlow was cleared by the FDA in 2016. WakeMed Health & Hospitals, a 919-bed hospital system in Raleigh, North Carolina, was selected as an early evaluation partner and pilot site for the LifeFlow Rapid Infuser, and a limited market release was initiated in November 2016. Early feedback from users has been extremely positive.
"I had a chance to use LifeFlow today to treat a critically ill two-year-old. The child presented lethargic, with high temperature and heart rate; basically, compensated shock," said Scott Connelly, MD, FAAP, of Wake Emergency Physicians, PA. "The heart rate dropped into the normal range in front of my eyes as the nurse pushed two fluid boluses within minutes. It was amazing. I have never seen that dramatic a reduction in heart rate with fluid boluses."
Dr. Connelly was one of the physicians who used the LifeFlow Rapid Infuser during the evaluation study. Wake Emergency Physicians, PA is a 136-provider, independent physician practice staffing nine emergency departments in North Carolina.
Based on the success of the early evaluation program, 410 Medical is broadening LifeFlow's market release to a larger group of hospitals nationwide.
"We are thrilled by the initial success of the LifeFlow Rapid Infuser," said Kyle Chenet, chief executive officer at 410 Medical. "We believe LifeFlow is a transformative product that will make a profound contribution to the well-being of children and adults with sepsis and other life-threatening conditions."
About 410 Medical, Inc.
Founded in 2013, 410 Medical is a medical device company dedicated to developing innovative products that enable frontline medical providers to improve care for critically ill patients. 410 Medical's first product, LifeFlow®, is designed to enhance the speed and efficiency of fluid resuscitation, improving care for patients with life-threatening illnesses such as sepsis. LifeFlow was cleared by the FDA for human use in August 2016. For more information, visit www.410medical.com.