Beyond the radio report: How modern communication is evolving the role of EMS in the healthcare continuum
Collaboration between EMS and receiving facilities has not only allowed medics to be part of the overall care team – it's also given them a place in the continuum of care
---
Sponsored by Pulsara
By Sarah Calams for EMS1 BrandFocus
In the past, the traditional way of thinking as a paramedic was often this: Get the patient in the rig and drive to the hospital as soon as possible to get the patient the care they need.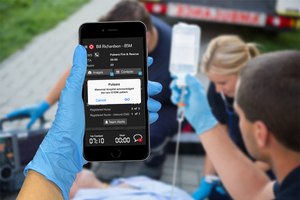 But what if the patient wasn't being transported to the right facility?
Imagine: a paramedic recognizes on scene that they are treating a stroke victim. Their first thought is to get the patient to a hospital as quickly as possible. But what if the receiving hospital isn't equipped or staffed appropriately to treat the patient?
And even if they are, there's no guarantee that precious time won't be wasted once EMS arrives at the door with the patient. Even though the team called the hospital ahead of time to give them a heads-up on their incoming stroke patient, that patient could still be left waiting in the ED – with the clock ticking – to get into CT.
But what if there was an alternative? What if the EMS team had the opportunity to send a more complete notification to the receiving facility? Instead of just giving a radio report while en route, what if the team could give the hospital more thorough information on the patient's assessment – including demographic information, photos and a stroke score – long before they arrived?
By taking the extra 45 seconds to properly notify the receiving facility, the EMS team could enable the hospital team to see the patient's stroke exam score, the patient's facial droop and the proper information to pre-register the patient before arrival.
From there, let's say the emergency staff recognizes this patient needs time-sensitive testing and intervention. What if the team could just press an "activate" button and their entire stroke team would be alerted to the incoming patient?
Then, instead of the EMS team waiting for the CT machine to open up, they could walk the patient right into CT – saving precious minutes when time is brain.
This scenario is easily and effortlessly achieved with Pulsara, a healthcare communication and telehealth platform.
The Pulsara platform and its success in Texas
Getting the patient to the right place in a timely manner is a significant struggle, both logistically and from a communications standpoint. Pulsara provides a way to solve that at a macro level, says Corey Ricketson, a veteran paramedic and VP of national accounts at Pulsara.
And if EMS wants a proper seat at the table, Ricketson says, agencies need to innovate.
"They need to become a part of the healthcare continuum in a way that they never have before," he said.
Using Pulsara for this collaboration between EMS and receiving facilities, says Ricketson, not only allows EMS teams to be part of the overall care team; it also gives them a place in the continuum of care.
"We've always knocked at the door, but now we have that opportunity," Ricketson said. "Let's say I'm in the field, and I'm not sure if this is a stroke. I contact the receiving hospital and say, 'Hey, here's what I've got, but I may need a little help.' With Pulsara, there's no problem at all with that doctor just hopping on a quick video call with me and going, 'Hey, let's do this together.'"
In Texas, the San Antonio Fire Department and Austin Travis-County EMS have seen continued success since implementing Pulsara.
During the COVID-19 pandemic, San Antonio Fire medics were using half-mask respirators, which were interfering with their ability to be heard clearly when giving a radio report. This unexpected cultural change was the biggest catalyst for their team to start using Pulsara, Ricketson says.
"They really needed a digital way to send a report rather than that radio report," Ricketson said. "With Pulsara, you can do one of two things before alerting the receiving facility: You can physically type in demographic information if you have it, or you could simply hit 'unknown' and take a picture of the driver's license, insurance or identification card."
As a result, San Antonio Fire is now creating a Pulsara patient report, meaning that if a crew identifies a patient as a possible STEMI, they can take a picture of the patient's license, 12-lead and cardiac monitor – and it only takes about 20 seconds to send the alert.
"And now you're back to patient care," Ricketson said. The hospital is immediately alerted with all of the uploaded information, and hospital staff can leverage that information to prepare and be ready for the crew the second they arrive on the ED's doorstep.
Austin-Travis County EMS created a communications plan for their region to help them load balance patients for the pandemic.
"If a 911 caller calls in and describes influenza-like symptoms, the call gets transferred to a team in communications that's made up of some advanced practice clinicians. They would start questioning the patient and start a channel in Pulsara," Ricketson said.
Once transferred, the team looks at the patient's acuity and risk factors. From there, they can determine the best course of treatment.
"They may not send an ambulance," Ricketson said. "They could send the patient an invite to a secure virtual telehealth call through Pulsara."
The patient would then click on the link, and the care team would digitally have eyes on the patient and perform a video telehealth call.
"Then they could get this patient in for testing or follow-up with a much better sense of what they're walking into," said Ricketson. "COVID wasn't necessarily a time-sensitive emergency – it was a resource-sensitive emergency."
Both San Antonio Fire and Austin-Travis County EMS, Ricketson says, value Pulsara's ability to communicate information between team members in a secure and HIPAA-compliant way. Only the right members of the care team hear and see each patient's protected health information.
EMS becoming part of the healthcare continuum
The first step toward effectively including EMS as a valued member of the healthcare continuum is establishing communication from EMS to a hospital or from a referral hospital to another hospital.
Pulsara ONE, which is offered at no cost to all referring facilities, is the building block needed to do just that, Ricketson said.
"Any EMS agency, doctor's office, nursing home or similar organization can send to a hospital for free," he said. "The hospital can receive that communication for free. They can start using the platform at no charge, utilize the tool and build muscle memory. And if that's where they want to keep it, they can continue to use the platform for free."
Pulsara ONE can replace the traditional radio report with team messaging, audio clips, telehealth, ECG transmissions, live audio and video calls and other multimedia to streamline communications between EMS, the ED and referral facilities.
But if an EMS agency or hospital wants to start taking advantage of downstream care communication coordination, the Pulsara UNITED package can be used to help manage transport to alternative destinations under the ET3 reimbursement model.
"We call it UNITED because it unites care teams," Ricketson said. "If I have a STEMI, stroke or trauma assessment patient, there are other people who need to get involved past that emergency department. We want to unite those care teams."
Uniting teams across organizations gives everyone, including EMS providers, the opportunity to get real-time feedback.
Before Pulsara, if an EMS crew brought in a stroke patient, they may have had to wait for a stroke coordinator to give them feedback. That feedback, according to Ricketson, may possibly have been provided months later – or more frequently, not at all. With Pulsara, EMS is no longer kept in the dark.
"If I'm bringing someone in, that case stays open and it moves downstream throughout the continuum of care," Ricketson said. "Upon case closure, all of the feedback can instantly go back to the ED and EMS. It gives EMS that immediate sense of gratitude: 'I made a positive impact on my patient.'"
That immediate feedback can make a huge impact beyond patient care.
"Paramedics have a choice," said Ricketson. "Usually they're going to go where they're appreciated, where they learn and where they feel like they're part of the team."
Pulsara gives EMS crews just that – the opportunity to become a part of the overall care team and healthcare continuum.
Visit Pulsara for more information.
Read Next: How video streaming benefits everyone involved in an EMS call