Durable, 'rugged' computer unveiled at EMS Expo in Dallas
Rugged Notebooks showed off the durability and strength of the ARMOR X10gx Rugged Tablet in an eye-catching demonstration
---
By Jamie Thompson
EMS1 Senior Editor
DALLAS — Being able to set yourself apart from the other exhibits is always a challenge at trade shows — but Rugged Notebooks rose to the task at EMS Expo in Dallas.
On the trade show floor, the company showed off the durability and strength of the ARMOR X10gx Rugged Tablet in an eye-catching demonstration.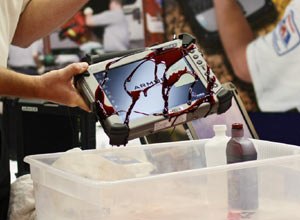 Doused with simulated blood, sterilized with alcohol, and submerged in water, the tablet was then powered up to prove it was still fully functioning.
The ARMOR X10gx is specially designed for the challenges EMS providers may face in their job. According to Rugged Notebooks, the tenth generation offering from DRS Technologies sets a new standard in the survivability of mobile computing.
"We did it to get in people's faces to show the reality of the ruggedness of this computer and the fact it does things that people really need to witness," said Rugged Notebook's Vice President of Sales John Redgrave on the demo.
"In my experience, there are only a few rugged computers that can be dropped and keep working but there are none that we know of that can actually be dropped, drowned, doused with blood and cleaned with alcohol, all while it's running and continuing to run.
"That's the reason we wanted to do this — and also it's something new and different that hasn't been done before."
The tablet has been designed to combine durability with reliability. It features
Intel® Core2 Duo™ processing and a high intensity backlight screen that is offered with a digitizer pen or as dual mode, supporting both pen and touch input.
"The Armor is ideally built for the EMS market for use in an ambulance," Redgrave said.
"All of the ports are 100 percent sealed inside the computer and it carries an IP rating of 67, which means it is completely submersible in 3 feet of water and certified for 30 minutes."
Others specs include dual hot-swappable batteries that are easily removed and replaced, a user-replaceable solid state hard drive, integrated 802.11n WLAN, Bluetooth, Gobi WWAN, and GPS.
In addition, Rugged Notebooks also exhibited its RNB T10 tablet computer — which has gone through similar tests to the ARMOR X10gx — at the show.
The RNB T10, designed for the medical sector, has an IP-54 rating for ingress protection, and withstands alcohol, bleach, iodine, and other liquids.
For the past 10 years, Rugged Notebooks has focused  on providing the most robust, shockproof and weatherproof rugged portable computers available. Its products have been sold to more than 10,000 organizations worldwide. Visit Rugged Notebooks on the Web at Ruggednotebooks.com.

Request product info from top EMS Mobile Computers companies
Thank You!