PRESS RELEASE
Masimo Unveils MightySat™ at Consumer Electronics Show - First Fingertip Pulse Oximeter with Masimo SET® Measure-through Motion and Low Perfusion™ Technology
---
Visit Booth 73711 at CES in Las Vegas to Witness Death-Defying and Olympic-Level Demonstrations Showing How MightySat Delivers Accurate Measurements When Other Pulse Oximeters Fail
Irvine, CA - Masimo (NASDAQ: MASI) today announced the MightySat fingertip pulse oximeter for personal use. MightySat provides accurate oxygen saturation and pulse rate measurements when other pulse oximeters can fail1 and is ideal for those who want reliable measurements even under extreme conditions.
Oxygen saturation (the percentage of arterial blood that is bound with oxygen) and pulse rate (the number of times the heart beats per minute) provide an indication of lung and heart efficiency and increasingly are being measured with fingertip pulse oximeters for personal use. However, until now no fingertip pulse oximeter has been available with Masimo SET® Measure-through Motion and Low Perfusion™ pulse oximetry – the same technology used on more than 100 million patients a year in leading hospitals worldwide. Now, instead of guessing whether their pulse oximeter is providing accurate measurements, people can rely on MightySat with Masimo SET® technology – shown in more than 100 independent and objective studies to outperform all other pulse oximetry technologies with dramatically fewer false measurements during motion and low perfusion (or low blood flow) to the finger.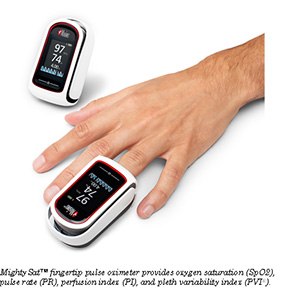 MightySat is available in three versions – each of which provides oxygen saturation (SpO2), pulse rate (PR), and perfusion index (PI) measurements in a compact, battery-powered design with a large color screen that can be rotated for real-time display of the pleth waveform as well as measurements. Optional Bluetooth wireless functionality enables measurement display via a free, downloadable app on iOS and Android mobile devices as well as the ability to trend and communicate measurements. And for those who want to use their pulse oximeter to evaluate another physiologic dimension, MightySat is the only fingertip pulse oximeter available with the optional Pleth Variability Index (PVI®), a measure of the dynamic changes in the PI that occur during one or more complete respiratory cycles.
Other standard features include:
Signal I.Q.® to assess measurement confidence
Rugged, lightweight design for operation in challenging environments
Long battery life–up to 15 hours with two standard AAA alkaline batteries
Two-year limited warranty
Elite athletes are among those who trust Masimo SET® pulse oximetry to help them achieve peak performance. Stig Severinsen, Ph.D. in medicine, a four-time World Champion freediver and owner of multiple Guinness World Records, including history's longest breath-hold of 22 mintues, will demonstrate MightySat while holding his breath in a coffin-sized water tank during the CES trade show in Las Vegas, Jan. 6-9, Booth 73711, Tech West, Sands Expo.
Also at the Masimo booth will be Dotsie Bausch, a seven-time USA Cycling National Champion, two-time Pan-American Champion, and silver medalist in team pursuit cycling at the 2012 London Olympics, who will perform her Olympic-level training, demonstrating Masimo SET® technology measurements .
"Training for extreme records under extreme conditions is always a huge challenge," said Severinsen, who was the subject of a recent National Geographic television special, when he used Masimo technology prior to freediving inside an iceberg. "In such situations it is of great value to be able to perform noninvasive and accurate measurements of my heart rate and oxygen saturation levels with a state-of-the-art device.
"I would recommend Masimo's MightySat to anyone interested in health and fitness – understanding what goes on inside your body is paramount to improving performance," he added.
Also at CES, win autographed books, consumer medtech devices and other prizes by entering Masimo's social media picture contest:
•          Post to your social networks a picture of you from Booth 73711 Tech West, Sands Expo, with Stig Severinsen and/or Dotsie Bausch
•          Use both hashtags #CES2015 and #Masimo
Winners will be announced throughout the day.
MightySat is available for purchase on Amazon U.S. and Amazon U.K. Please visit www.masimopersonalhealth.com for purchasing information.

Request more info from Masimo Corporation
Thank You!