Top 10 products at EMS Today 2011
There were some really exciting new products to see on the exhibit floor this year
---
Let me say right up front, EMS Today has always been my favorite annual EMS event. I went to the very first EMS Today many years ago, so EMS Today holds a special place in my heart. I also love Baltimore, the people, the food, and the fun of Inner Harbor. But it really is time that EMS Today moved somewhere else.
Many years of coming back to the same place time after time have resulted in some stagnation. This year it was even slower than last year in the exhibit hall. But that doesn't mean there were not some really exciting new products to see. A few of these are truly ground-breaking. Here are my Top Ten New Products at EMS Today 2011.
1. Spencer is sort of the "Ferno of Italy." They offer a full line of EMS products and patient handling equipment. Much of it is extremely well designed and ruggedly built. They had a real innovative backboard combination on display that combines two backboards into one. The Tango consists of a high quality composite plastic spine board with a recessed pediatric board nestled inside it. Day to day it's an adult board, but when you finally do have that Pedi-patient, you just pop the smaller pediatric board out from inside it.
Even more impressive, the pediatric board has two sides for two different age ranges. As many should know, smaller kids have proportionally bigger heads. Rather than need a pad under the head, for this group you need pad underneath the torso.
The Spencer Pedi-board does just that, by offering one side designed for the smaller child's proportionally larger head. When you encounter a larger child you just turn the board over for perfect neutral alignment of the cervical spine. They also have a simple sizing system label integrated, to make choosing the correct side simple. The Tango is by far the most advanced and versatile spine board I have ever seen.
2. Another impressive new product at EMS Today was a new ventilator from Hamilton Medical. The new Hamilton-T1 on display is still pending FDA approval, but worth learning about right now. This is easily the most sophisticated mobile ICU ventilator I have ever seen.
Unlike most other adult ventilators, this one can also truly handle pediatrics, delivering volumes down to 20ml. It has some truly revolutionary features. It offers six different modes of ventilation, including one that is both diagnostic and interventional. The machine senses increased resistance or reduced compliance, and then automatically alters the I time and E Time to better accommodate patient needs.
It has a built in blender, and every other imaginable option including a touch screen interface, while still remaining under six kilos in weight. This is one impressive ventilator, and should be a welcome new option for both aeromedical programs and critical care transport teams. It offers clinicians one robust platform for virtually any clinical application.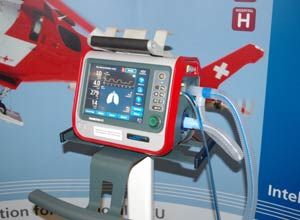 Photo Dan White
The Hamilton-T1 on display
3. Gerber Outerwear introduced the Extreme Parka, an exciting new EMS coat design. The Extreme Parka is a premium quality waterproof and breathable shell.
It meets ANSI F1671 blood borne and ANSI 107 Class 3 high-visibility safety standards. Gerber did something extremely clever (no pun intended) with the certifications for this coat. While affording full blood borne pathogen protection, it does not carry the typically pricey NFPA bloodborne certification. Instead they elected to use the ASTM F1671 standard which is a much less expensive test, and then they passed the savings on directly to their customers.
Fire Departments often require some type of NFPA certification on everything. But if you are not a Fire Department and want virtually the same protection, then the Extreme Parka makes perfect sense. The great looking Extreme Parka gives you the protection you want at a price you can afford. Even better, they built an optional fleece liner that can zip inside it but can also be worn as a separate jacket, called the Cambio Liner. The combination is incredibly warm and rugged. Like most Gerber garments, these are simply some of the finest quality personal protection products that money can buy.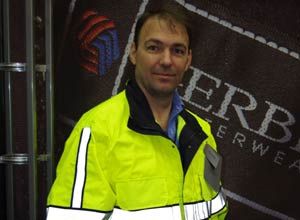 Photo Dan White
Deron Gerber of Gerber Outerwear models the Extreme Parka
4. The UCAPIt Controlled Access Pharmacy or CAP allows controlled access to restocking supplies. Think of the CAP as a big vending machine for your supplies. More than the name Pharmacy might imply, it is easily customized to dispense virtually anything that needs replacement during a long shift.
They offer many different shelving and dispensing bins that can hold anything from a pre-filled syringe to a D tank of oxygen. All withdrawals are cataloged, time-stamped, and regulated by tech or clearance level. For those departments having trouble keeping up with their equipment and disposables, the CAP offers an important solution.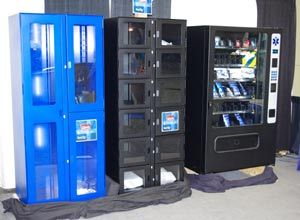 Photo Dan White
CAP allows controlled access to restocking supplies
5.
Hartwell Medical
demonstrated a new value priced vacuum mattress. Frankly, I also think it's an improved design, now able to form into the perfect CID.
The FASPLINT
is a value priced moldable body forming full body splint.
You mold the shape while suctioning out the air to create a solid customized full body splint. They result in fewer pressure points and less pain and discomfort while effectively immobilizing suspected fractures.
In many European nations, the vacuum mattress has been popular for many years. What has held them back in the USA has mainly been unfamiliarity and price. At these prices, everyone should get familiar with them.
I also think it's an ideal working companion to the Hartwell Combicarrier II. I could see gently scooping an elder lady onto the FASPLINT, and then re-positioning it underneath. Vacuum the splint down while molding it up and under the broken hip and then use the CombiCarrier II to move them to the stretcher. Gente, effective, and probably the most compassionate care imaginable.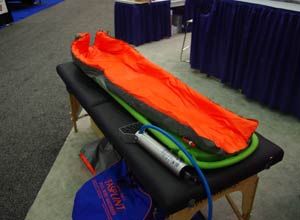 Photo Dan White
The FASPLINT on display.
6. A company called OmniGlow, had an interesting intubation stylet on display. The StyLite is a malleable endotracheal stylet with what is best described as a light stick built into the tip. Having a little extra light on the subject when you are trying to intubate is a great idea.
This simple and inexpensive adjunct could be a valuable addition to any paramedic's intubation kit. It is available in both 11 french and 14 french sizes, emits a white light, is non-toxic and packaged sterile for single use. You just snap the tip to activate, and then position it inside your ETT like any other stylet.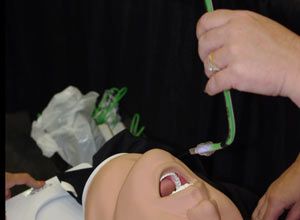 Photo Dan White
The StyLite is demonstrated at EMS Today.
7. Another revolutionary product at EMS Today is the Activek Health Solutions air decontamination technology for EMS. Here is the problem, controlling pathogens in the back of an ambulance is actually a very hard thing to do. We often don't even know when we are being exposed, which makes using personal protection solutions a challenge.
That is where the AtivePure RCI Cell technology comes in. These devices are mounted permanently inside the ambulance and run continuously to reduce both airborne and surface contamination. They also reduce odors while creating superoxide ions and hydroperoxides that attack microorganisms.
These compact and self-contained natural air treatment systems can reduce common bacteria and fungi, even on surfaces by up to 99.8 percent in 24 hours. While most other methods of decontamination are employed afterwards, the Activek Induct 500 works all the time to reduce your potential exposure to dangerous contaminants. While it will never replace good PPE practices, this technology holds enormous promise.
8. At the Bound Tree Medical booth, I introduced the GreenLED fiber optic laryngoscope handle for the first time anywhere. GreenLED is an exciting new alkaline powered LED fiber optic handle.
The innovative design features a twist out steel light cartridge with the LED and two AA batteries. It fits into a beautifully crafted stainless steel handle with a comfortable silicone grip. The green silicone grip is never cold or slick and provides a positive grip under all conditions.
The white daylight LED is brighter and cooler, with extended battery and lamp life. Even better, since the LED has no filament, it casts no central shadow. The Green LED Handle fits all green system compatible fiber optic blades, including both disposable and re-usable blades.
The modern LED lamp provides better illumination now powered by low cost and lightweight AA batteries. It is really the first fiber optic handle that you can easily clean. Just twist the light and battery cartridge with a twist and remove it.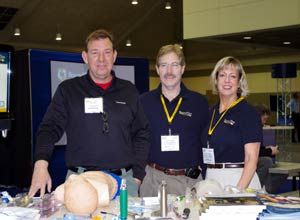 Photo Dan White
Dan White with Dave Tomlin and Kim Rosser of Bound Tree Medical launching the GreenLED Laryngoscope Handle.
9. T.H.E. Medical demonstrated two new lateral transfer devices. One was a disposable that reminded me a lot of the Stryker Speedsheet. The other is a more robust reusable device called the SallyRoller. It is a folding slide board that gently and smoothly transfers patients from bed to stretcher or vice versa.
It appeared very well made, and was obviously easy to use and effective. They also offer your choice of washable or disposable SallyTube covers. As our patients keep getting bigger and our backs keep getting older, this is one handy device. It makes even the toughest transfer smooth and drama-free with less strain to both rescuer and patient.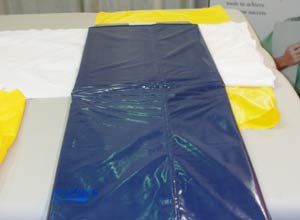 Photo Dan White
A washable SallyTube cover on display.
10. Mennen Medical Corporation demonstrated the CritiCool, an active cooling technology. Cooling technology has shown great promise in post-resuscitation care. The big problem in EMS has been the limited ways in which we can employ it.
The plain truth is that dramatic changes to core temperature require considerable heat transfer, and consequently lots of energy in some form. Up until now, we have been limited to applying ice or cold packs, and running cold IV fluids. These methods work to a limited extent, and certainly give you a head start on patient cooling very conveniently.
The challenge is that these methods by themselves don't move enough heat away from the body to drop temperature quickly. The CritiCool does, by circulating ice-cold, precisely temperature controlled water circulating through their CureWrap blanket.
This is one way to get core temps down quickly. What makes it even more valuable it that the same device that gets them rapidly cooled down can also warm them up, in a precisely controlled manner. One limitation is that if your ambulance doesn't have an inverter or generator, you probably can't use it. I'm not sure this thing is really built for the street, but this technology is clearly headed in the right direction.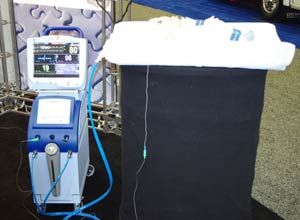 Photo Dan White
CritiCool is an active cooling technology.
These are my Top Ten new products at EMS Today this year in Baltimore. The exhibit hall had a bunch of really outstanding new EMS products. All the best distributors were there, complete with lecturers, free gifts, refreshments, and more. It was really a bit strange.
We had some of the most exciting new products and dynamic exhibits in recent memory. A few were really game-changing. But I'm worried they did not get the exposure they hoped for. EMS Today needs a fresh venue, one that provide EMS professionals from other parts of the country an opportunity to participate without having to buy an airplane ticket.

Request product info from top EMS Medical Equipment companies
Thank You!