Take traction on the go with this compact, lightweight splint
The Slishman Traction Splint changes the way we can do traction, which benefits both patients and providers
---
Sponsored by Rescue Essentials
By Tim Nowak for EMS1 BrandFocus
Breaking bones hurts – that goes without saying. Especially in situations where your patient breaks the largest and strongest bone in their body – the femur. Calls to off-road locations, industrial site accidents or even falls in the home all bring about the potential need for traction splinting, yet we very rarely pack our bags to account for this immediate-relief-requiring situation. Why is this?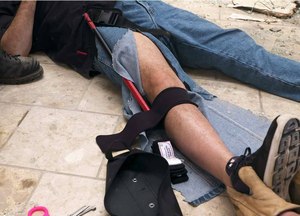 Put yourself into this scenario: You're dispatched to a recreational trail where a bicyclist has gone head-over-handlebars and is complaining of a "broken leg." You find the patient awake and alert. After a quick assessment, your patient appears to have two fractures to his left leg: one open femur fracture and another closed lower tib/fib or ankle fracture. He is obviously in pain, but otherwise appears stable.
Now, think back to your cot ... what did you load on it?
Likely, you have a scoop stretcher, C-collar bag with head blocks, your primary response bag, an additional trauma bag (if your system stocks this), your cardiac monitor and your pain management medications. You've got an oxygen cylinder on your cot, so you leave behind your airway bag. Sounds pretty typical, right?
Do you have the equipment that you need to care for and package this patient? In this scenario, will your current traction splint device work?
SWITCHING FROM PULL TO PUSH
Medics have been pulling traction from the foot for about 100 years, says Richard Bilger, a former volunteer responder and EMS educator who is now a product manager for Rescue Essentials. For most of this time, the devices available to achieve traction were cumbersome and not particularly easy to use.
Looking for a new approach, Dr. Sam Slishman developed the Slishman Traction Splint in the early 2000s, which pushes the lower leg up from the hip/groin rather than pulling.
The original Slishman Traction Splint was first marketed by Rescue Essentials in 2012. Almost a decade later, Slishman and Rescue Essentials have developed a smaller, lighter version for added portability and faster application. The new Slishman Traction Splint-Compact (STS-C) device was released in early 2020 and named a Hot Product at the 2020 EMS Today Conference & Exposition.
Here are four advantages of the new splint for both providers and patients:
1. COMPACT & LIGHTWEIGHT
The STS-C device is packed with potential yet compact enough to fit inside nearly any medical or trauma bag compartment. It's easy to store and carry because it's 13 inches when packed up and weighs less than 13 ounces.
Most current traction splints on the market aren't compact enough to fit either inside of our primary response bags, or to be secured with MOLLE straps to the outside. The STS-C device will fit, and its outside carrying case features three such straps. When stored inside of its carrying pack, the entire package is not much larger than a liter bag of saline.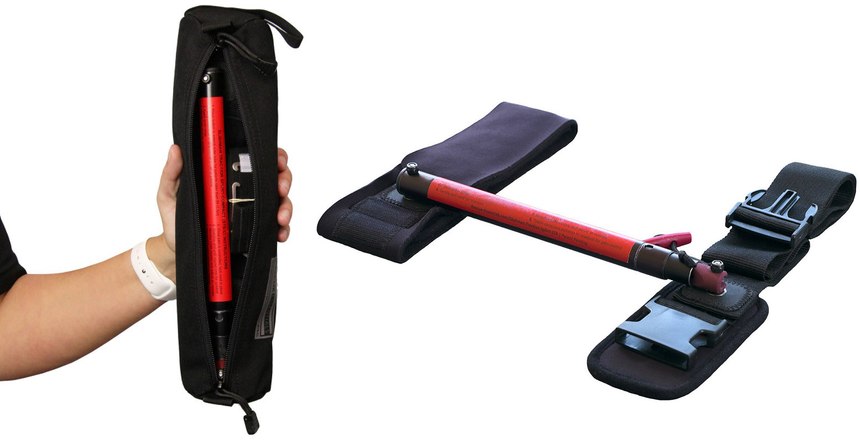 Adding more equipment – especially equipment that may only account for 1% of your potential call volume, but realistically a much higher percentage of your call need – undoubtedly adds weight. The STS-C is roughly the size of a bag of saline, but weighing only half of it, it's fair to say this device has a low storage impact, but a high deployment impact (especially when "time equals pain" when it comes to femur fractures, just like "time equals muscle" in the context of a heart attack).
"We literally designed this for use in austere environments for people who have to pack all their gear," said Bilger. "When it comes to search-and-rescue and deployment where you're carrying everything in your bag, you're hiking into the woods, you're going off to an earthquake zone, tornado or hurricane disaster, you're dependent on having all of your gear that you need on your back. In those kinds of environments, you're going to run across femur fractures, so having this available is great."
2. SIMPLE to USE
The STS-C provides a one-size-fits-all splint that can be applied in under a minute with minimal training – and unlike other traction splints, it can be used even if the patient has a lower leg amputation. It takes just six steps to apply the STS-C:
Remove from carrying case.
Extend the outer pole until the snap lock engages.
Apply the outer tube strap proximal to the calf (or just above the knee if the calf muscle is injured).
Apply and adjust the groin strap.
Apply traction by pulling on the T-handle cord.
Secure the cord in the V-notch.
Medics can apply the splint in under a minute with minimal training. It's also easy to adjust without starting over – or getting up in transit – adds Bilger. This means medics can stay seated and belted in for safety while still tending to the patient when the ambulance is in motion.
All this adds up to faster pain relief for the patient and more time for the medics to treat their other injuries.
"If I've got a femur fracture, I probably have other things I have to do with this patient, so let's get this done quickly. Let's give them some pain relief," said Bilger. "And then let's go back in and finish up everything and get them packaged and get them off to the hospital."
3. VERSATILE
The STS-C device doesn't extend past the foot in order for traction to be pulled, so it can fit easily into helicopters, baskets and ambulances – yet it still works on tall patients. Plus, it can be used concurrently with pelvic binders and other stabilizers, such as box splints.
This unique design allows for multiple forms of splinting to occur for injured patients. All other traction splints that pull traction at the ankle are contraindicated in the setting of concurrent lower extremity trauma, like the bicycle patient described in the beginning of this article.
"Every other traction device on the market is contraindicated if you have any kind of a lower leg injury," said Bilger, "so if either one of the tibia or fibula bones is broken, you can't use traction."
One-size-fits-all capability also means the STS-C can be used for children as well as adults. Currently, many states require ambulances to carry one adult and one pediatric traction splint. This results in consumed storage space and added costs. With the STS-C, one device can take the place of both your traditional adult and pediatric traction splints – and now your total consumed space is not much more than two bags of saline.
"When we say one size fits all, it's because of the way this product is designed," said Bilger. "Really, infants are the only ones it wouldn't fit."
4. REDUCED RETRAINING & RESTOCKING
The STS-C can also yield time and cost savings for your organization. Because of the one-size-fits-all capabilities of this device, it can afford your service or department the ability to stock fewer physical splints, which means reduced overall cost and restocking hassles.
Additionally, it's easier to train on a single product that can adapt to the needs of a wide variety of patients, rather than having to account for both adult and pediatric versions of a device. This allows for increased skill retention among your providers with less training time.
Times have changed, and traction splinting is no exception. It's likely been over a decade – or two – since your original traction splint purchase, so the next time you open your outside compartment or lift your squad bench to retrieve your current traction splint, consider whether you have the right tool for the job.
Visit Rescue Essentials for more information.
Read Next: 4 things to explain to patients to increase their comfort and compliance

Request information from Rescue Essentials
Thank You!