PRESS RELEASE
LMA Fastrach on the Space shuttle
---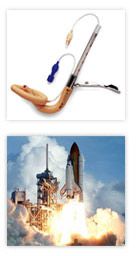 SAN DIEGO, Calif. - The LMA Fastrach™ has been chosen by NASA as its preferred device for emergency airway management on space shuttle missions and on the International Space Station. The decision follows an extensive evaluation of several airway systems.

The LMA Fastrach™ has also been included in the ASA Difficult Airway Algorithm.

The ability of the LMA Fastrach™ to establish an airway quickly and easily, even when access to the patient is severely restricted, has already led to its use by emergency services in over 40 countries throughout the world. The fact that the device can be inserted without moving the head and neck is a particular advantage in trauma cases where movement may risk further injury. It is also used in hospitals during surgery when anesthesiologists have to deal with anatomically difficult airways.
About LMA
Incorporated in the Netherlands Antilles in 1998, LMA listed on the Mainboard of the Singapore Exchange in March 2005. LMA designs, develops, markets and distributes medical equipment, principally the LMA laryngeal mask airway range of supraglottic airway management devices. These devices are used by physicians to allow respiration, provide ventilation to, and support the airway of patients undergoing surgical procedures and life-saving interventions. Since its first product, the LMA Classic, was approved by the FDA for use in the United States in 1991, LMA's growth has been driven by the development of innovative products, geographic expansion, and increased customer awareness of the LMA laryngeal mask airway as an alternative airway management device. LMA has established a leading position in this growing market.