LifeFlow® Rapid Infuser named a JEMS Hot Product at EMS Today 2017
---
LifeFlow was one of only 30 innovative products to receive recognition by JEMS at the 36th Annual JEMS EMS Today Conference & Exposition
DURHAM, N.C., June 05, 2017 — 410 Medical, Inc., a medical device company focused on developing innovative technologies for the resuscitation of critically ill patients, today announced the selection of the LifeFlow® Rapid Infuser by JEMS (Journal of Emergency Medical Services) as a Hot Product at the JEMS EMS Today Conference & Exposition 2017 (JEMS Today 2017). LifeFlow is an easy-to-use device that allows for the rapid delivery of fluids in patients with sepsis, shock or other emergency conditons. Using LifeFlow a health care provider can deliver 500ml of life saving fluid in less than two and a half minutes.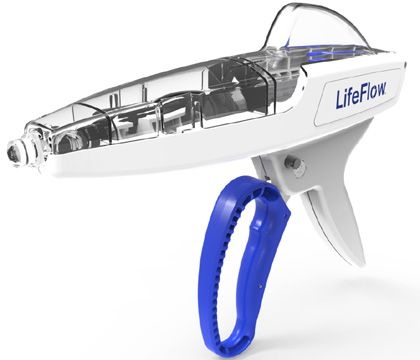 LifeFlow was selected by a team of eight judges consisting of emergency medical services (EMS) product specialists, physicians, educators, managers and paramedics. The judges reviewed a host of product contenders, including products that were designed to not only improve the ability to deliver optimal emergency medical care to critically ill and injured patients, but that also allow EMS agencies to do it safely, more efficiently and with enhanced comfort for the patient. Products were rated on four distinct categories: originality, functionality, ease of use, and need in the EMS setting. The selection of the final 30 Hot Products appears in the June issue of JEMS and can also be viewed at www.jems.com/2017-hot-products.
"We specifically designed LifeFlow to offer providers a unique combination of safety, control, simplicity and speed of use for emergency fluid delivery." said Galen Robertson, Chief Operating Officer at 410 Medical. "We are honored to receive this acknowledgement from JEMS and proud of our product, LifeFlow and its potential to transform the way first responders deliver fluid to critically ill patients."
In November 2016, the Company rolled-out a limited market release of the LifeFlow Rapid Infuser through an early evaluation program, which yielded extremely positive results and feedback. Last month, based on the success of this program, 410 Medical broadened LifeFlow's market release to hospitals and EMS organizations nationwide.
About 410 Medical, Inc.
Founded in 2013, 410 Medical is a medical device company dedicated to developing innovative products that enable frontline medical providers to improve care for critically ill patients. 410 Medical's first product, LifeFlow®, is designed to enhance the speed and efficiency of fluid resuscitation, improving care for patients with life-threatening illnesses such as sepsis and shock. LifeFlow was cleared by the FDA for human use in 2016. For more information, visit www.410medical.com.