Pocket ultrasound device assists responders in trauma settings
---
By Jamie Thompson
EMS1 Senior Editor
ATLANTA — The first pocket ultrasound device aimed as a handheld diagnostic and screening tool for EMS personnel and other health care providers made its EMS Expo debut in Atlanta.
The ACUSON P10 system aims to enable users to make earlier, faster and more accurate decisions at the point of care, according to manufacturer Siemens.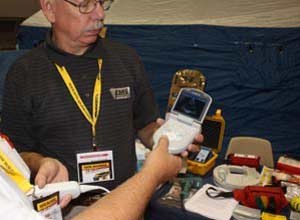 As well as being designed for use by physicians, nurses and clinical professionals, the device aims to assist EMTs and paramedics in trauma settings.
"We had a very enthusiastic reaction from people who came to our booth," said Dennis Ottey, regional sales manager for EMS Innovations, which has exclusive distribution rights for the product in the pre-hospital market. "Most of the attendees hadn't seen a pocket ultrasound before."
While there are other portable ultrasound systems on the market, Ottey said, they are not specifically designed for EMS and pre-hospital clinicians.
"Some have full ultrasound capability. This is not necessarily an advantage in the EMS setting and is the reason they can be much more expensive," Ottey said. "The P10 is designed for the paramedic, not the sonographer."
"Siemens designed the Acuson P10 with two control adjustments — depth and gain — to enable the paramedic or EMT to make quick, accurate assessments."
The Acuson P10 weights 1.6 lbs and is designed for ease of use with an "intuitive PDA-style user interface and high-quality images (fundamental and harmonic 2D-mode)."
The device was designed, Ottey said, with the FAST (Focused Assessment with Sonography in Trauma) exam in mind. "FAST exams are designed to give the clinician the ability to rapidly identify free fluid (usually blood) in the peritoneal, plural or pericardial spaces," he said.
"It also gives the ability to visually verify cardiac activity to see if extraordinary measures should be taken at the scene. The capability to make go/no-go decisions on medivac or ground transport can easily justify the use of ultrasound in EMS scenarios."