PRESS RELEASE
DSM continues NOW effort to protect first responders
---
PARSIPPANY, N.J., - DSM and its DSM Dyneema business group today hosted an event at DSM North America corporate headquarters to show support for area first responders, continuing the organization's NOW campaign for educating emergency response personnel and helping them keep up with new challenges faced on the job.
The NOW program launched during 2017 National EMS Week in response to the need for greater awareness among the first responder community regarding life-saving technologies necessary to protect them as they provide critical prehospital trauma care during mass casualty events and other extreme situations. Such scenarios have become more frequent, with FBI data showing from 2000-2013 the U.S. averaged more than 11 active shooter incidents per year.
A recent survey sponsored by DSM Dyneema and supported by EMS1, FIRE1, and POLICE1 reveals a knowledge gap related to emerging threats first responders face while performing their jobs. Particularly striking is the perspective of EMS respondents, who now often are called closer to the frontlines to more quickly provide medical care to wounded victims and fellow first responders. 76 percent of EMS professionals surveyed say that they don't believe their organization is prepared enough for a high-threat situation. 75 percent of EMS respondents believe additional gear is needed for their organization to be prepared for a high-threat situation, and 83 percent say more training is needed. 83 percent of those EMS workers who responded say they have either served on the scene or know someone who has been involved in an active shooter situation.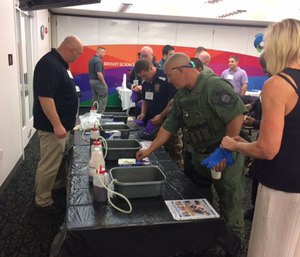 "Research clearly shows that education and training about emerging threats, and access to better protection from those threats, are necessary. DSM and our DSM Dyneema business group aim to help close those gaps, make sure voices are heard, and provide much needed support to the people who protect our communities"" said Hugh Welsh, president, DSM North America.
Attendees at the event at DSM North America received free-of-charge training providing them the American College of Surgeons' Bleeding Control Basics certification, focusing on the proper usage of tourniquets and other procedures employed during many field trauma situations. After the training, first responders from the NY/NJ metro area participated in discussions of important topics including:
• emerging threats – such as active shooter situations,
• new response procedures such as the Rescue Task Force model,
• and next generation protective equipment and armor technology.
Event guest speaker Sgt. Scott Harding, a recognized expert on strategies for first responders, is a founding member of the Greenburgh, N.Y. Police Department Technical Rescue Team.
"These situations are real, they happen more frequently, and training in a hands-on capacity is the only way to prepare to serve in such an event," said Harding. "We must acknowledge the realities of the job in today's environment. Support from organizations like DSM to improve awareness is a critical step towards making sure our fellow first responders can do their jobs effectively, and get home to their families afterwards."
DSM Dyneema and armor manufacturer Point Blank Enterprises followed the training session with a donation of two armor kits to the Morris County Emergency Management Department. Each kit included a carrier vest and front and back hard armor insert plates, with the armor inserts certified to meet NIJ .06 Level III protection. The plates offer protection from a variety of handgun and rifle ammunition rounds representing those often used in situations such as were trained for during the session. Both the carrier shell and insert plates are made by Point Blank with Dyneema® material.
The event concluded at the Morris County Police Training Academy, where attendees observed a live-ammunition shooting demonstration showing performance capabilities of new armor technologies available to protect first responders from emerging threats.
"Armor for personal protection is among the significant needs for first responders, but many organizations don't know about the options available, don't realize that new technologies exist that can protect without interfering with job duties," said Marcio Manique, global business director, life protection, DSM Dyneema. "We all depend on the critical services EMTs, firefighters, law enforcement officers, and other emergency management and response professionals provide. Our commitment with the NOW program is to provide information via events like this one, online at ArmorNOW.com, and in concert with our armor manufacturing customers. We will amplify this issue and do our best to inform and provide access to innovations that help protect those sworn to protect our communities."
More information about the NOW program for first responders is available at www.armornow.com.
About DSM Dyneema
DSM Dyneema is the inventor and manufacturer of Ultra High Molecular Weight PolyEthylene (UHMWPE) fiber branded as Dyneema®, the world's strongest fiber™. Dyneema® offers maximum strength combined with minimum weight. It is up to 15 times stronger than quality steel and up to 40% stronger than aramid fibers, both on weight for weight basis. Dyneema® fiber floats on water and is extremely durable and resistant to moisture, UV light and chemicals. The applications are therefore more or less unlimited. Dyneema® is an important component in ropes, cables and nets in the fishing, shipping and offshore industries. Dyneema® is also used in safety gloves for the metalworking industry and in fine yarns for applications in the medical sector. In addition, Dyneema® is also used in bullet resistant armor and clothing for police and military personnel. Furthermore, the new generation Dyneema® Fabrics offer next level innovations in denim, apparel, footwear, sports equipment and lightweight outdoor products and accessories. UHMWPE products from DSM Dyneema are produced in Heerlen (The Netherlands), Greenville, North Carolina (U.S.A.), Mesa, Arizona (U.S.A), and Laiwu (China). DSM Dyneema is also a partner in a high modulus polyethylene (HMPE) manufacturing joint venture in Japan. Further information on DSM Dyneema is available at www.dyneema.com.
DSM - Bright Science. Brighter Living.™
Royal DSM is a global science-based company active in health, nutrition, and materials. By connecting its unique competences in life sciences and materials sciences DSM is driving economic prosperity, environmental progress, and social advances to create sustainable value for all stakeholders simultaneously. DSM delivers innovative solutions that nourish, protect, and improve performance in global markets such as food and dietary supplements, personal care, feed, medical devices, automotive, paints, electrical and electronics, life protection, alternative energy, and bio-based materials. DSM and its associated companies deliver annual net sales of about €10 billion with approximately 25,000 employees. The company is listed on Euronext Amsterdam. More information can be found at www.dsm.com.
Dyneema® and Dyneema®, the world's strongest fiber™ are trademarks of DSM. Use of these trademarks is prohibited unless strictly authorized.
All other trademarks are the property of their respective owners.

Request more info from DSM Dyneema
Thank You!