How one agency's investment in resuscitation tools helps save more lives (white paper)
This case study details how Naperville FD in Illinois improved survivability and ROSC rates for cardiac arrest by adopting new protocols and equipment
---
Sponsored by ZOLL
By Sarah Calams for EMS1 BrandFocus
In Naperville, Illinois, the fire department has a popular saying – "think like a chef instead of a fast-order cook." In this case study, find out how that approach led the department to question – and ultimately improve – their cardiac arrest resuscitation solutions, improving both survivability and ROSC rates.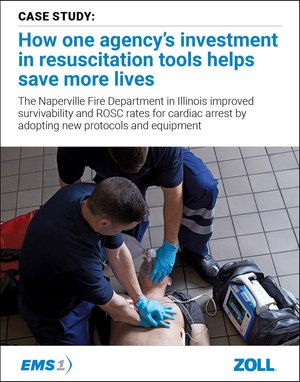 Download the free white paper to learn:
Why Naperville FD was inspired to make a change.
How the department conducted a field trial of mechanical CPR devices to evaluate them before adoption.
How the department chose its solution, wrote new protocols and rolled out the changes with training.
How the department studied the new program and tracked the data to determine whether the changes made a difference.
How they found after two years that their cardiac arrest survivability rate had reached 57% (compared to the national average of 27%).
Fill out the form below for your free copy of the study.
Find out how resuscitation tools can help you save more lives