PRESS RELEASE
Just Say No to CO Poisoning Event
---
Irvine, CA. - When three house painters fired up their gas-powered compressor in a Southern California home last year, they didn't realize the tool they used to earn their livelihood would kill them.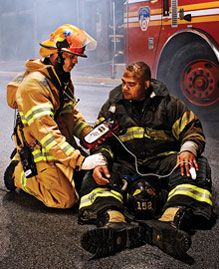 Carbon monoxide (CO) poisoning – the "silent killer" – is the leading cause of accidental poisoning deaths in the U.S. each year. Most CO-related deaths and hospital emergency room visits occur during fall and winter. The "silent killer" season is upon us.
You can help save lives by covering the "Just Say No to CO Poisoning" event, 2-3 p.m. Friday, Sept. 20, at 50 Parker, Irvine, Calif., 92618.
Experience how fire fighters are tested for and recover from CO exposure during a live demonstration
See the latest technologies and techniques used to detect and combat CO poisoning in the home and body
Interview survivors, officials with the National Fallen Firefighter Foundation, and Randolph Mantooth, who played LA County Firefighter Johnny Gage on TV's "EMERGENCY!"
Facts:
According to U.S. Census data, 74% of California housing uses some form of fossil fuel burning heating, which can generate carbon monoxide.
Initial symptoms of CO poisoning often mimic the flu -- including headaches, dizziness, and nausea -- and often are misdiagnosed. When undetected, CO poisoning can lead to severe heart and brain damage or death.
It is possible to have CO poisoning without exhibiting any outward signs and symptoms, which underscores the importance of testing everyone, every time there is the potential for CO exposure.
The only safe way to detect CO in a home is with working carbon monoxide alarms. Carbon monoxide alarms should be installed on every level of a home and near sleeping areas to help keep families safe.
CO poisoning damages the heart; heart attacks are the leading cause of death among firefighters.
Additional Info:
Orange County Fire Authority will be giving a presentation to Masimo employees about the services and resources they provide for our local area, giving Masimo employees an insight into the duties and risks associated with the fire service. They will have apparatus on display and do a brief firefighter rehab demonstration.
The Masimo team will also hear from Chief Ron Siarnicki, Executive Director of the National Fallen Firefighters Foundation about their efforts to prevent firefighter line of duty deaths (LODDs) and improve health and safety, as well as provide assistance to families of fallen firefighters. A local family who has been impacted by an LODD will also be on hand to address the audience about their personal experience and involvement with the NFFF.

Request more info from Masimo Corporation
Thank You!