Students' eyes opened to health care fields at NC camp
---
By Morgan Wall
The Mount Airy News
DOBSON, N.C. — Naomi Foster got the ride of a lifetime Wednesday at Surry Community College.
Foster, a participant in the three-day Camp Med, was offered the opportunity to ride in the Wake Forest University Baptist Medical Center AirCare unit and jumped at the chance.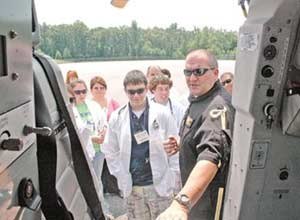 Before she went up, she told a couple of people that she might be scared of heights, but after touching back down, she was all smiles.
"It was fun. At first it was scary but after a while it wasn't so bad," she said after landing. "I would do it again. It was a great opportunity."

Wake Forest Baptist Medical Center's AirCare unit and critical care ground unit, along with crew members, were at Surry Community College as part of the Northwest Area Health Education Centers grant program which sponsored Camp Med.
The camp was open to students from Surry County, Mount Airy City, Elkin City, Yadkin County and Stokes County high schools who are interested in pursuing a career in the health field.
During the three-day camp, the students tour the health fields available to them, including nursing, nutrition, dentistry, veterinary medicine and family medicine and are able to ask questions of professionals in the fields. They also take a trip to Northern Hospital of Surry County for half a day and Baptist for a full day.
During an hour-long session with the team from Baptist, students learned all about what it is like to work as a paramedic, nurse or pilot with either of the teams.
"Anything that can be done in an emergency department can be done in the bird or in the ambulance," said Scott Schroat, a paramedic with the AirCare unit. "Family members can ride in the front of the truck but not in the helicopter."
Some of the students asked about the cost of an AirCare flight. According to the crew, take-off starts around $7,000 and then it costs around $80 per mile after that. It takes 20 gallons of fuel to fly the helicopter from Baptist to Surry County. When a student asked why it costs so much, a crew member replied, "Because we like it to stay in the sky."
Another career field in health care that many people do not think about is the pilot who flies the helicopters.
"It's the most demanding flying you will do," said Bert Smith, pilot with the Baptist crew. "I enjoy it and the guys we've got working for us seem to as well."
Pilots are not employed by the hospitals they work through or by the county. They come from companies that, for the most part, specialize in health-care pilots. Smith works with Air Methods, a company out of Colorado.
Because space is limited in the helicopter, crew members have to be tedious about their work and must ensure patients remain calm. According to Tony Raymond, a registered nurse with AirCare, if a patient seems even a little agitated or combative, they typically sedate them for the flight. This protects both the patient and the crew as the patient could inadvertently cause the plane to crash.
Medical helicopters tend to fly at 2,000 to 3,000 feet, which is high enough for them to clear obstacles but low enough not to have a tremendous effect on the patient.
Students also learned that Surry County has 19 designated landing zones for AirCare, including one at the Surry Community College training center. Landing zones must be a 100-by-100-foot space so that the helicopter has room to take off.
Reprinted with permission from The Mount Airy News.