How AIM EMS billing maximizes reimbursement and protects your agency's patient data
Designed to help EMS agencies maximize ambulance transport reimbursement, AIM EMS Software & Services has upped its game
---
Sponsored by AIM EMS Software & Services
By EMS1 Brand Focus Staff
Getting paid by patients and insurers alike is a challenge for all EMS agencies, but particularly for the smaller ones who can't afford to have Accounts Receivable/Collections professionals on staff.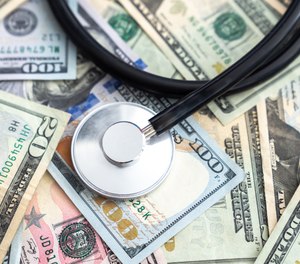 This is where AIM (Ambulance Information Management) EMS Software & Services can help. For the past three decades, AIM has assisted EMS agencies in efficiently and effectively collecting the funds that are owed to them, so that they can continue to fully serve their communities. And AIM has kept up with the times: Its latest generation of cloud-based dispatch, ePCR (Electronic Patient Care Reporting), and billing software has been created by EMS professionals who understand the industry.
This is why AIM has achieved a 94% retention rate among its EMS agency clients. But not content to rest on its laurels – anymore than the agencies it serves – AIM continually works to improve its software workflow and security. Here are just a few of the key features helping EMS agencies improve reimbursement and stay compliant.
Improved workflow improves cash flow
AIM has streamlined its EMS billing workflow, resulting in faster collections for agencies. Here's how:
Work queues: They help make billing easier to execute and less taxing.
Scheduled follow-ups: EMS billers can use the system's routing feature to schedule follow-ups on outstanding claims and share these appointments with other team members.
Updated billing codes: Billing codes can be a pain to search and find. AIM keeps these codes updated, relevant, and easy to locate.
Narrative templates: With adjustable templates, administrators can pre-program auto-fill sections that pull information from a patient's account.
Standard operating procedures: EMS agencies can create and customize SOPs for any EMS billing task.
Quality control that works
Quality control in billing means sending the right claim or invoice, properly prepared, to the right people. This minimizes delays in the payment process.
AIM supports quality control through:
Customizable notifications: Reduce mistakes by providing billing staff with the right instructions for every client, through customized notifications.
Automatic monitoring: This background tool watches data entry as bills are populated. It ensures that required fields are filled in and errors fixed before the claim is sent out.
Insurance eligibility: AIM keeps track of insurance eligibility information related to patients, which can be called up at a moment's need.
Ensuring compliance for billing departments
Complying with all relevant EMS billing regulations is a must, and there can be a lot of them to comply with! AIM's EMS billing software's compliance features keep users in line with regulations and documentation requirements. The results are properly-prepared claims that can withstand potential scrutiny, resulting in more timely reimbursements.
AIM provides this peace of mind by:
Attaching supporting documents: All EMS patient accounts and bills remain connected to supporting documents. This means users never face filing a bill without supporting records such as signature forms, ECG tracings, face sheets, explanations of benefits, and anything else that is required.
Audit tracking: AIM's EMS billing software compiles a history of user actions as they occur. Should an audit take place, all necessary information will be at hand and accessible.
SOC-certified data center: AIM's data center is state-of-the-art and complies with SOC standards. This ensures that AIM clients don't have to worry about costly in-house outages or losses.                      
An easy-to-use dashboard to rule them all
Tired of shuffling through billing reports, trying to find one obscure piece of data? AIM eliminates this headache with its easy-to-use user dashboard that displays live stats and trends. Think of it as a weather report for your billing department:
It includes:
Intuitive graphs: AIM's dashboard shows the current state of your EMS agencies billing operations. These are organized in visually appealing graphs and charts. At a glance, billing staff will see clear metrics that tell them how payments are progressing, or not.
Detail breakdown: Sometimes billing agents need to sit down with a magnifying glass to finely examine specific aspects of their billing system. AIM gets this, which is why it offers detailed breakdown tools to run reports on specific metrics.
Extensive standard reports: AIM provides users with a wide range of reports, so that they can understand what is happening with billing and payments from a number of perspectives.                                                
Enhanced security to keep data safe
With more people working from home, cybersecurity is more important than ever. AIM has security features that help prevent breaches:
Two-factor authentication: Requiring two steps in user sign-ons prevents hackers from stealing your data.
Limiting account access by division: AIM lets EMS agencies decide who gets who access what information, and who doesn't.
Restricting access to specific billers: EMS administrators can limit access on a person-by-person level, ensuring only authorized billers in the agency have access to individual financial files.
Help when you need it
EMS agencies can be short-staffed. AIM's billing staff can pick up where an agency's own staff have left off, to keep the cash flow moving.
Now more than ever, AIM EMS Software & Services is here to help EMS agencies get the payments they deserve in a timely manner, so that they can continue to serve the public, pay their staff, and keep the lights on.
For more information, visit AIM-System.com.
Read next: Take the pain out of EMS billing

Request information from AIM EMS Software & Services
Thank You!