Texas bikers raise $10,775 for the Code Green Campaign
The donation from EMS Roaddocs and Curvaceous Chivers will help fund education programs and mental health resources for emergency responders
---
AUSTIN, Texas — The EMS Roaddocs of Texas and the Curvaceous Chivers hosted an escorted motorcycle ride that raised $10,775 for the Code Green Campaign.
"The EMS Roaddocs were honored and humbled to work with Code Green and to help with resources and funds to put more people in their corner and to help their cause," said Guy Minshall, president of the local chapter of the Roaddocs.
Volunteers from the EMS Roaddocs, a motorcycle club for first responders and other health care providers, and Chivers raised money with T-shirt sales, a raffle, a silent auction, and a motorcycle ride in the Austin, Texas area on March 28th.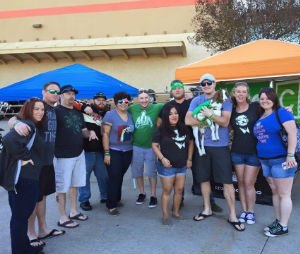 "Our chapter realized we needed to make this big to bring awareness and help these few individuals that have taken on an impossible task," said Minshall.
This is the Code Green Campaign's first big fundraising event, and after its rousing success additional chapters of the Roaddocs are already taking steps to hold fundraisers in their areas. The Code Green campaign plans to use the donations for education development and providing mental health resource information and literature to emergency responder agencies nationwide.
The EMS Roaddocs recruited the Curvaceous Chivers to plan and execute the ride for Code Green.
"Curvaceous Chivers is proud to have been part of these events," said Gem Hurlman, founder of the Curvaceous Chivers, a Chive Nation group focused on making the world 10% better through charity, volunteerism, and body positivity.
 "So many of our members are first responders. This initiative was simply a matter of caring for our fellow brothers and sisters."

Request product info from top EMS Apparel & Accessories companies
Thank You!