June 2008 Product Round Up: Uniforms
---
end picture EMS1 is focusing on news and information about uniforms throughout the month of June 2008. Check out some of these great products currently on the site: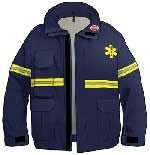 Globe LifeLine EMSRESCUE Jacket Ergonomics at its Best
The Globe LifeLine EMSRESCUE Jacket offers superior comfort with increased durability. The EMSRESCUE Jacket has moved the shoulder seam out beyond the shoulder allowing you to comfortably reach and stretch. It also prevents the jacket from riding up when you raise your arms. The ergonomically curved sleeve follows the natural shape of your arm to work with you – not against you. Learn more at www.globefiresuits.com/lifeline.
EMS Professionals Choose Kermel FR Stationwear from Blauer ™
Kermel V50 is a 50/50 blend of Kermel Aramid and Lenzing fire retardant rayon. V50 offers superior comfort and permanent flame retardant properties that cannot be washed out or worn away with use. When exposed to high heat and flames Kermel V50 carbonizes and thickens, increasing the protective barrier between the heat source and the skin. Kermel V50 is also durable and will outlast polyester cotton blends by two times and 100% cotton by three times. Visit www.blauer.com to view the full line of Blauer uniforms.

Brush up your appearance with Stratus Series Trousers from Perfection Uniforms
Perfection Uniforms Stratus Series Trousers feature the Perfection EGC System (Ergonomic Garment Construction), providing enhanced comfort, mobility, and extended wearlife. The EGC System includes heavy duty hidden elastic waistband construction, expanding 2-4 inches as necessary. It also has a "Stretch & Support" breathable waistband and specialized "Crotch Construction" with a one piece diamond shaped gusset for multi-directional stretch, mobility and extended wearlife. Check out the full EGC system at www.perfectionuniformsstore.com.


Look your Best with Regulation Knit Shirts from Elbeco
Hard working uniforms that make you look your best and offer Class A looks with Class B durability and comfort. Great for police, fire and EMS uniform programs! The right uniform is one that offers the best in its class for performance and provides consistently better appearance with superior workmanship and construction. We are committed to research and development in the ongoing quest to improve fabrics and designs. All of this is done to provide an affordable uniform that you can feel proud to wear. For more information, visit www.Elbeco.com.

For more information on Uniforms, visit the EMS1 Uniforms Product Catagory at www.ems1.com/ems-products/uniforms/.

Request product info from top EMS Apparel & Accessories companies
Thank You!