Boston EMS vehicle explosion injures 2 FFs
The SUV crashed into a snowbank after its brakes failed, rupturing the gas tank and causing a fire which exploded an onboard oxygen tank
---
QUINCY, Mass. — A Boston EMS SUV burst into flames after its brakes failed and the SUV crashed into a snowbank. Two firefighters, responding from Quincy Fire Department, were injured when an onboard oxygen cylinder exploded.
The SUV's brakes failed, leading it to hit a snowbank and rupturing the gas tank, reported WVCB.   
The Tuesday morning incident happened during rush hour. The crew from Quincy Fire Department Engine 5, dispatched to the incident for a car fire, was nearby when the master oxygen cylinder in the vehicle exploded.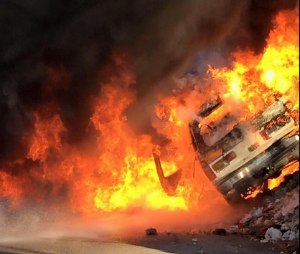 Two firefighters being treated at Massachusetts Eye and Ear for minor injuries are expected to be OK, according to a Friends of Quincy Firefighters IAFF Local 792 Facebook post. 
The firefighters were wearing proper PPE, protecting them from exploding flying debris.
The Boston EMS supervisor, who was driving to a training meeting, was not injured in the collision, fire or explosion.
@RobiWBZ car fire on Furnace Brook exit ramp in Quincy on expressway north after Braintree split pic.twitter.com/VMqdTX1oi5

— Big Party Don Mc (@BigPartyDMc) March 3, 2015

Request product info from top Ambulance Disposable Supplies companies
Thank You!