Watch: Patient thanks responders after rattlesnake bite
Jerome Roddenberry received 32 vials of antivenin at the hospital after a rattlesnake bit him on his hand
---
BARTOW, Fla. — Jerome Roddenberry was treated by Polk County Fire Rescue after a rattlesnake bit him on his hand. He's now out of the hospital and recovering well. On Friday, April 21, he met some of the Polk County Fire Rescue members who started his care.
Roddenberry was bitten on Sunday, April 9, by a five and a half foot rattlesnake. He told firefighters during the reunion that the bite itself didn't hurt, "but things got bad, fast." After about 10 steps he wasn't able to move and approximately 30 seconds after the bite, he doesn't remember anything until he woke in the hospital.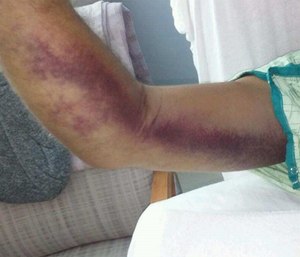 "I have no memory of my first helicopter ride," Roddenberry told firefighters.
Polk County Fire Rescue crews were dispatched to the River Ranch hunting grounds around 6:30 p.m. Fire rescue crews were told someone shot the snake in the midsection and Roddenberry thought it was dead; but when he picked it up, the snake bit him on his hand.
When fire rescue crews arrived, Roddenberry needed advanced medical care. He was airlifted to Osceola Regional Medical Center so antivenin could be administered. Mr. Roddenberry said he received 32 vials of antivenin at the hospital. "I'm lucky to be alive," he added.
Roddenberry also told the Polk County Fire Rescue members, "You saved my life. You kept me going until I got to the hospital."