Wis. governor touts $31M in grants to EMS across state
Officials with the state's Department of Health Services said 442 EMS agencies across Wisconsin would receive money from the grants
---
Chris Vetter
The Leader-Telegram, Eau Claire, Wis.
CHIPPEWA FALLS, Wis. — Gov. Tony Evers stopped in Chippewa Falls on Tuesday, where he met with EMS/firefighters at the Chippewa Falls fire station, and shared news that the department will receive more than $90,000 in federal dollars.
"No one should be calling for an ambulance and wondering if help will come," Evers said.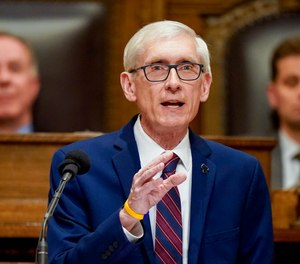 Evers said he authorized $31 million in grants for EMS agencies across the state, with the money coming from federal COVID-19 relief funding.
"We received more than $63 million in requests, so the need is definitely there," Evers said. "We know we have a lot more to do. We need to look at a long-term sustainable funding source."
Specifically, Evers said he would like to increase shared aid revenue to municipalities, and look at lifting levy limit caps. However, the Republican-controlled Legislature has shown little interest in those proposals, he acknowledged.
"It hasn't helped that local governments have been asked to do more with less," Evers said.
Chippewa Falls Fire/EMS Chief Lee Douglas thanked Evers for the boost in aid.
"Our budgets were stretched extremely thin," Douglas said. "We are hoping to offset the costs of equipment that needs to be replaced. For right now, today, it's a great start."
Chippewa Falls City Councilman Paul Nadreau told Evers about how the city is taking a $1.2 million referendum to voters in November, with the money going to pay for adding two or three more EMS/firefighter positions, another police officer and give city staff pay increases. The levy limits have made it difficult for the city to add staff.
At the conclusion of the press conference, Nadreau said he was pleased Evers stopped in the city and provided the funding.
"I think the city will find a good home for it," Nadreau said. "There are so many needs to be met."
Karen Timberlake, the secretary-designee for the state's Department of Health Services, said 442 EMS agencies across the state would receive money from the grants.
"Wherever you live in Wisconsin, accidents can happen that require those emergency services," Timberlake said. "And that's what these grants will enable them to do."
Tim Michels, the Republican candidate for governor who will face Evers in the November election, released a statement that was critical of the grants.
"Tony Evers is using first responders as props to cover for his failed record of releasing brutal murderers back into Wisconsin communities," said Michels campaign spokesperson Anna Kelly in a press release. "Unfortunately for Evers, no amount of EMS can put out the flames of his flailing campaign, and no prop check can paper over his policy failures."
State Sen. Kathy Bernier, R- Chippewa Falls, also was critical of Evers' office for providing few details of his stop in advance of his appearance.
"No mention of when or any specifics at all really, with the notice coming so close to any potential event it would be impossible for legislators to attend," Bernier wrote in a statement to media Tuesday. "Hopefully this Governor gives you in the media a little more heads up than he gives us. A lot of empty talk from the Governor who claims to work so well with the Legislature."
A new Sienna College poll released Tuesday shows that Evers is ahead of Michels, 49% to 44%. The poll was conducted between Sept. 14 and 15.
___
(c)2022 the Leader-Telegram (Eau Claire, Wis.)
McClatchy-Tribune News Service