Fla. training center offers responders real-life emergency scenarios
With cameras, microphones, speakers and motion detectors in every room, the building gives trainees the opportunity to go through detailed simulations
---
By Deborah Strange
The Gainesville Sun
GAINESVILLE, Fla. — The Kirkpatrick Center looks unassuming.
Home to Santa Fe College's Institute for Public Safety, it's a multi-story building on Northeast 39th Avenue with classrooms, offices and practice rooms.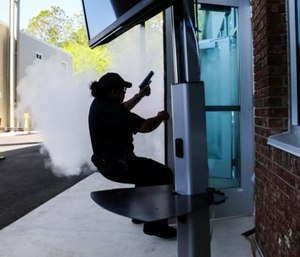 Oh, and there's a bar behind the main building.
The Kirkpatrick Center is a training facility for law enforcement, emergency medical technicians, paramedics and other emergency responders. With cameras, microphones, speakers and motion detectors in every room except bathrooms, the building gives students and trainees the opportunity to go through detailed simulations and review their work.
Santa Fe President Jackson Sasser dedicated the building Friday after it underwent an $8 million renovation. He was joined by IPS director Tom Ackerman, U.S. Rep Ted Yoho, state Sen. Rob Bradley and state Reps. Chuck Clemons, Bobby Payne and Clovis Watson Jr.
The "Main Street" area includes a house and a bar to put students in lifelike scenarios replicating bar fights, medical emergencies and domestic violence incidents. There are clothes hanging in the home's closets, and there are tables and stools in the bar.
"When they get out in the field, they will have been there and done that," Ackerman said in an interview.
After the dedication ceremony, students engaged in an active-shooter scenario that involved blasts, explosions and sirens.
The renovation added 24,000 square feet to the facility and embedded new technology throughout the building. It's also expanded the number of students who can participate in IPA programs.
The building has a control room with tall columns of black boxes with dozens of blue wires connecting them. A large screen shows camera footage throughout the building. Instructors can set up types of scenarios for students, throwing in surprises to keep them on their toes.
Victor Diaz, a law enforcement student who's been working at the center for five months, said the facility is "the best experience" a trainee could get.
While his favorite part of the law enforcement training program is the instructors, he said the scenarios have been invaluable.
Ackerman said the center could replicate nearly any situation that makes the news, including shootings and other attacks.
"Facilities like this should be everywhere," he said during the ceremony. "This is what the future looks like."
Copyright 2018 The Gainesville Sun