Police: Man arrested after running over firefighter, injuring 2 EMTs
EMTs were checking on the man when he suddenly "punched the gas" and dragged the firefighter with his car, police said
---
Christine Dempsey
Hartford Courant
NEW BRITAIN, Conn. — A driver who police said ran over a firefighter who arrived to help after he passed out behind the wheel in New Britain is due in court next week following his recent arrest.
William T. Jones, 42, of Landers Avenue in New Britain, also injured two medics during the November incident, police said. He was arrested last week on six sets of charges, some of which are connected to the chaotic assault and some of which are not.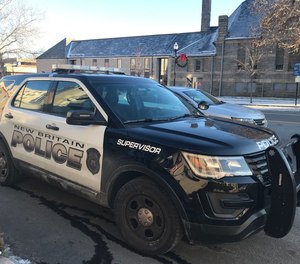 Jones' 17 charges include first-degree assault and three counts of assault on an emergency medical technician. He is scheduled to appear in Superior Court in New Britain Wednesday. His public defender, Chester Fernandez, could not be reached for comment Thursday morning.
According to an arrest warrant affidavit, New Britain firefighters and ambulance workers responded to the intersection of East Main Street and Martin Luther King Boulevard about 7 a.m. Nov. 8 on a report of a man slumped over the steering wheel of an SUV that was sitting in the middle of the street.
An EMT told police she knocked on the man's window a few times and as he was waking up, he rolled down his window. She asked him if he was OK, and, when he answered, he was slurring his words, the warrant said, telling her he had not been sleeping.
Jones then "punched the gas, the engine started to scream, and he took off quickly," accelerating toward a firefighter, running him over and dragging him, the warrant said.
The firefighter's left ankle was broken, and he had "bloody road rash" and bruising as well, it said.
The EMT said her right toes hurt from either being run over or from her turning quickly to move out of the way of the SUV. Another EMT said his lower back was sore because he was knocked onto his back when the car sped off, the warrant said.
Detectives found a surveillance video of the incident and learned that the midsize SUV was a rented Ford Edge. They talked to the man who had rented it and discovered he had rented it for a man known as "Tee" in exchange for a gram or two of crack cocaine. Any time the man rented a car or extended the rental agreement for "Tee," he got more of the drug, according to the warrant.
A member of the department's Vice and Intelligence Unit identified "Tee" as Jones, it said, and witnesses confirmed by looking at photo arrays that Jones was the man behind the wheel that day.
Police made every effort to find and try to apprehend Jones, but were unable to take him into custody for months, the warrant said.
"Several times the vehicle was located and sped off from officers with careless disregard for the safety of the public in an attempt to flee from officers of not only this city but also from Hartford police as well," it said.
Police said they found Jones on April 21 and were able to take him into custody on the assault counts, on charges stemming from the times he fled officers and on unrelated warrants, at least one of which alleges he was involved in a domestic dispute.
Jones is in custody at the Hartford Correctional Center on $575,000 bail, state records show.
Christine Dempsey may be reached at cdempsey@courant.com.
___
©2021 Hartford Courant
McClatchy-Tribune News Service