New Orleans EMS providers discuss responding to strange calls
New Orleans EMS officials said they are highly and uniquely trained to save people in even the strangest of situations
---
NEW ORLEANS — The EMS providers of New Orleans say they are always prepared to handle even the weirdest of calls in their unique city.
New Orleans EMS Deputy Chief of Special Operations Cedric Palmisano said the agency is very familiar with strange situations, FOX8 reported.
"It's the reason why I love my job. I love taking care of people, but over here at New Orleans EMS, I get to take care of people in the strangest situations," Palmisano said.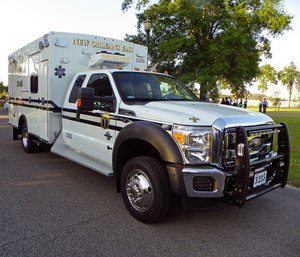 The deputy chief recalled a rescue involving a naked man who refused to come down from a 200-feet electrical tower.
"My team and I were able to get up to the patient that was naked," Palmisano said. "If he started trying to grab for us or looked like he was about to jump, we were ready to give him ketamine in order to sedate him and bring him down safely without him hurting himself, and that's exactly what we did."
Palmisano said the response was a success because of the high angle rescue training his crews have received.
The agency is also one of the few in the state fully equipped with a rescue truck and the tools needed to save people from impossible places.
"It's extremely rare for a third-party EMS service to be doing vehicle extrication or any sort of rescues like that," paramedic Jay Winston said. "While I'm extricating someone, I'm focused on patient care also. That's what makes it a game-changer for us."
The rescue truck is also equipped with tools to help EMS providers enter a patient's home without breaking in, and water rescue gear that gives them the ability to dive as deep as 20 feet.
The EMS providers also have tactical training that allows them to enter dangerous situations with SWAT teams.
"The greatest opportunity to save lives occurs within the first 10 to 15 minutes of an assault, so that's why we have to go in with the police officers in order to save as many lives as we can," Palmisano said. "It is no longer acceptable for us to just wait outside of a school shooting while police officers are going in. We have to assume some of that risk."
Palmisano said the high number of incidents in the city is what makes the agency "very good" at what they do.
"The police superintendent once said that the reason why the murder rate was down was because EMS is doing such a good job at saving lives, and I like to credit that to our training and our experience," he said.