'A makeshift community and a welcome respite'
Acadian Ambulance invested in assets to assist operations in areas impacted by extreme weather and to improve morale for deployed responders
---
Founded in 1971 and headquartered in the heart of Cajun Country in Louisiana, Acadian Ambulance is no stranger to hurricanes. The company's service area encompasses Louisiana, Texas, Mississippi and Tennessee – states that, combined, have endured more than 50 named storms in the past 50 years. And that's not including other weather events, such as ice storms or flash floods.
Acadian's hurricane response has certainly been honed throughout its 50 years in operation. Team members debrief and learn from every hurricane; when a new storm takes aim, Acadian's response is always more refined than it was before.
Several days prior to a storm's landfall, Acadian works with nursing homes, assisted living facilities and hospitals in the forecasted area, working to evacuate patients and residents as requested or needed. The company stands up its Emergency Response Operations Center (EROC), pulling in team members from multiple departments to operate a dedicated command center and to maintain communication with field management and crews without disrupting ongoing operations.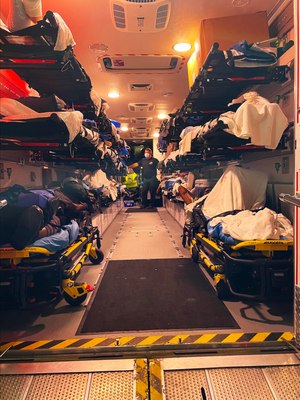 "Many of our innovations, from redundant communication systems and the creation of EROC to the vast improvements in caring for our teams in the field, came from lessons learned during previous storms. We learn something each time, and we will continue to implement the ideas generated from the debriefs," Acadian Ambulance President Justin Back noted. 
Strike teams from across the company are also activated as needed, and medics travel to support evacuation requests and regular 911 call loads.
Following the devastating impact of Hurricane Laura on Southwest Louisiana in 2020, Acadian looked at ways it could invest in assets that would assist operations in affected areas facing extended power and water outages. The company added high-water rescue vehicles, additional generators, and shower/restroom and laundry trailers to its fleet, with the ability to quickly mobilize and deploy the assets.
Hurricane Ida response
When Hurricane Ida made landfall in late August 2021, Acadian established two forward operating bases (FOB) – one at the company's administration building in Harahan outside of New Orleans, and one in Houma, Louisiana. 
Each FOB included shower/restroom and laundry trailers, along with sleeping quarters, fuel and water stations, communications and food trailers and a space for counseling, creating a miniature village powered by generators for use by medics deployed in the affected areas. 
"The FOB strategy was another lesson learned after 2020. We saw the need to take better care of our medics by providing improved facilities with comfort and convenience services, since many of them spend days deployed without going home or don't have homes to go to," Acadian Senior Director of Logistics Trampus Gaspard, said.
"We've worked very closely with state and federal agencies for many storms, and they've historically provided services like this in affected areas. We wanted to boost our own capability and provide our employees with these amenities directly. Our people can take a shower, clean their clothes, and grab a hot meal and bottle of water. The morale was much higher post-Ida than it was post-Laura."
Especially in the Houma region, where commercial power was unavailable for weeks, and where Acadian's ambulance stations suffered damage, the forward operating bases created a makeshift community and a welcome respite for on-duty crew members and their families.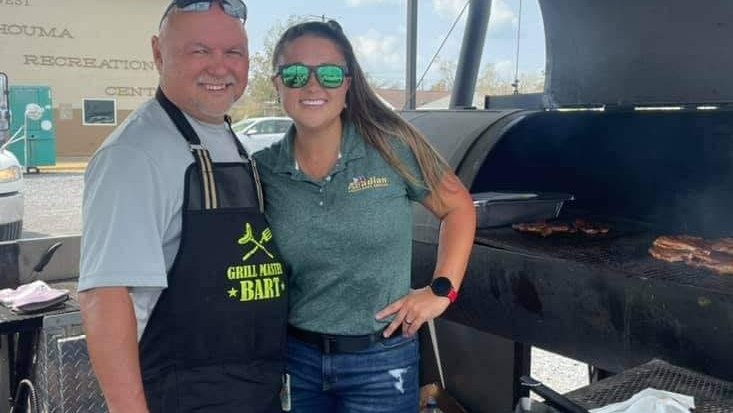 Dispatcher Bart Savoy and Paramedic Field Supervisor Heather Savoy traveled to Acadian's FOB in Houma, Louisiana, on one of their off days to cook for on-duty crews and provide camaraderie and moral support. (Photos/Justin Back)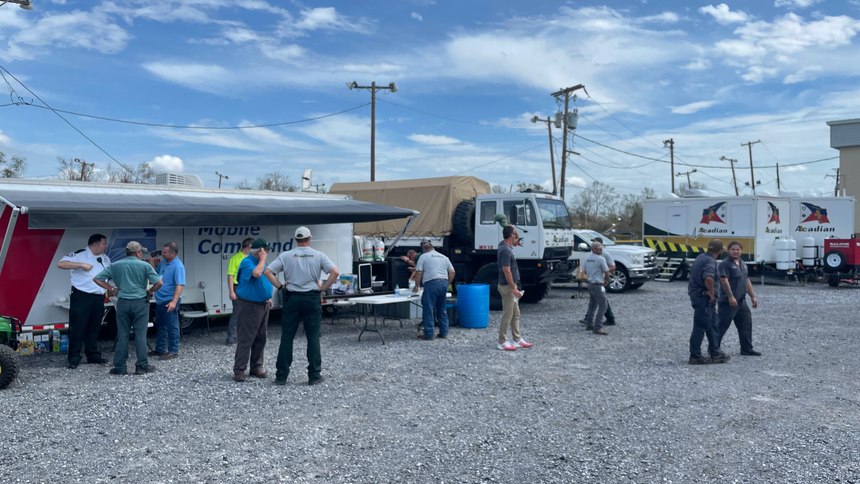 Acadian team members, including medics, safety and fleet personnel along with Chairman and CEO Richard Zuschlag, are gathered at the FOB in Houma, Louisiana. (Photo/Justin Back)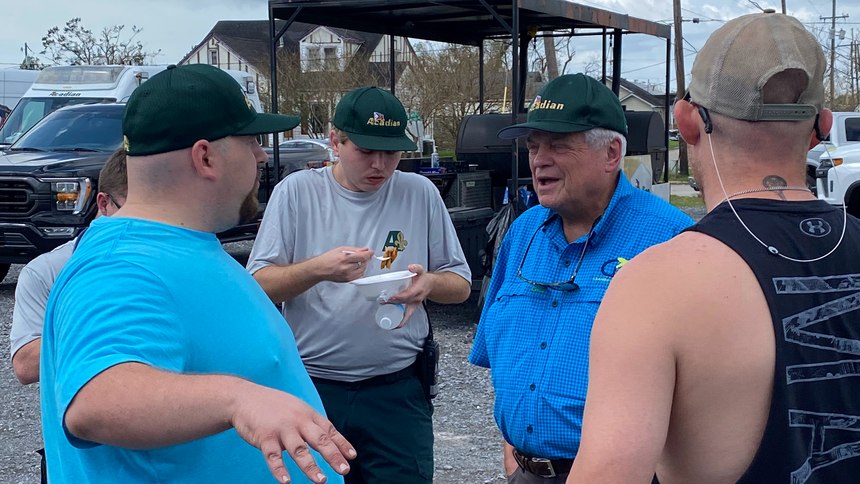 Paramedic Field Supervisor Brandon Breaux (blue shirt) speaks with Acadian Chairman and CEO Richard Zuschlag at the company's FOB in Houma, Louisiana. (Photo/Justin Back)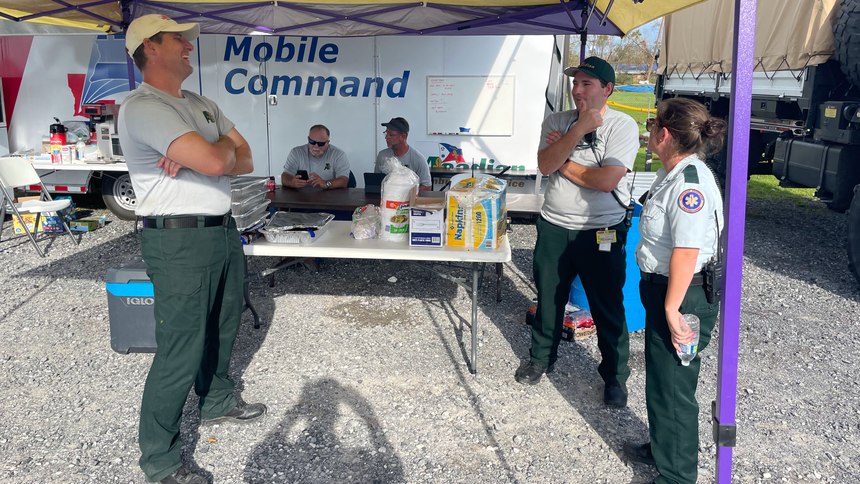 Acadian Ambulance President Justin Back visits with Paramedics Brandon Gauthe and Kimberly Trahan. (Photo/Justin Back)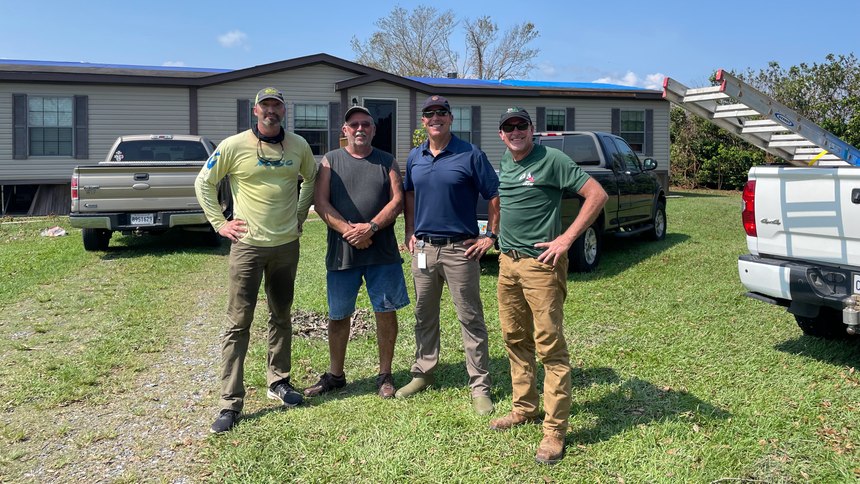 Operations Supervisors, Toby Bergeron and Bruce Boudreaux; Safety Management Systems Executive Sales, Paul Hamilton; and Acadian Ambulance Chief Medical Officer, Dr. Chuck Burnell; volunteer to tarp the damaged roof of an employee's home in Houma, Louisiana, following Hurricane Ida. (Photo/Justin Back)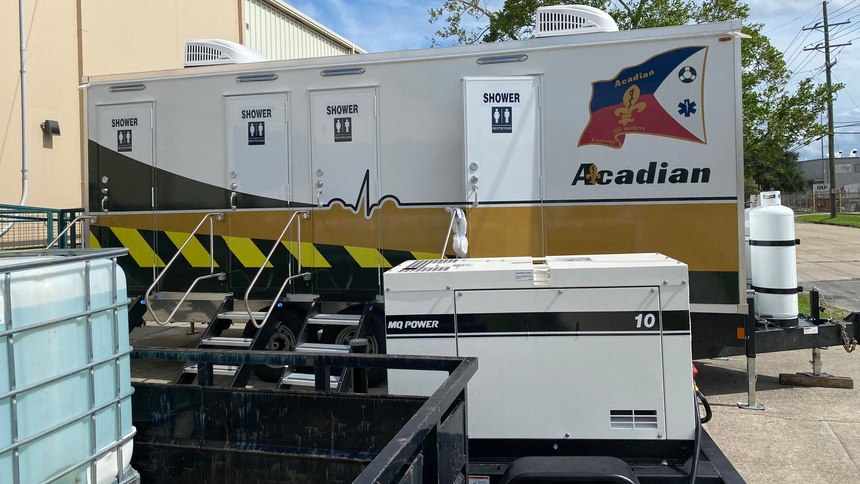 Acadian Ambulance set up a shower trailer at a forward operating base located at its New Orleans administration headquarters. (Photo/Justin Back)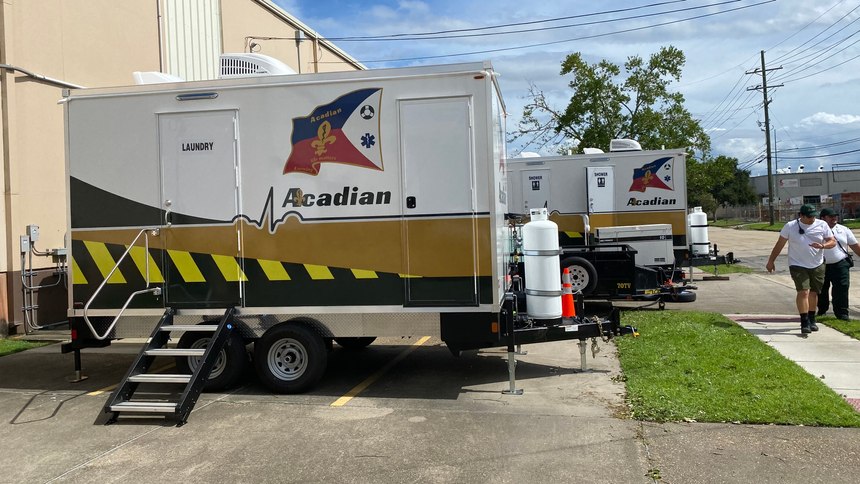 A view of Acadian Ambulance's laundry and shower trailers at its New Orleans FOB. The company's New Orleans FOB also included sleeping quarters for crew members. (Photo/Justin Back)

A panoramic view of Acadian's Houma FOB in the days following Hurricane Ida's landfall. (Photo/Justin Back)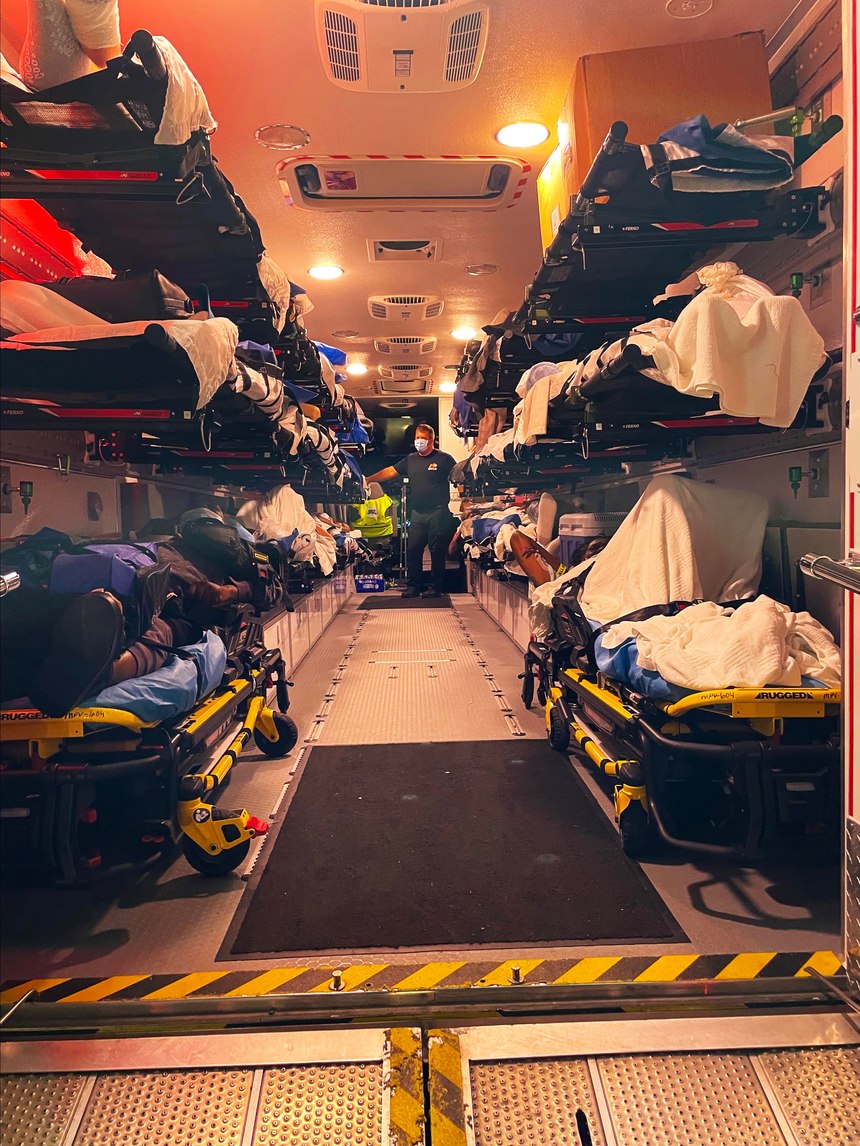 Acadian Ambulance utilized its two Ambus vehicles to aid in the efficient evacuation of nursing homes, assisted living facilities and hospitals before and after Hurricane Ida. Acadian performed more than 800 patient evacuations related to Hurricane Ida. (Acadian Ambulance / Facebook)









Support staff made regular trips to the FOBs from the Lafayette headquarters, bringing supplies, cooking for the crews and providing additional staffing. Many of Acadian's retirees also volunteered their time.
Acadian employees and some of their spouses pitched in to do laundry for on-duty medics, a small act that meant much more. Some, including members of Acadian's leadership team, helped tarp roofs; others volunteered to cook hot meals for crews – and in Louisiana, that often means a plate of delicious jambalaya, chicken stew, hamburgers, sausage or steaks. 
---

Read more
Why all EMS providers should be preplanning hospital evacuations
Pre-plan, build, and stock equipment that can serve as a future ambulance and specialty vehicle in the event of emergency evacuation
---
More than 140 Acadian employees suffered damage and property loss in Hurricane Ida, and yet, they continued to go to work. Emergency calls never stopped, and neither did Acadian's EMTs and paramedics.
EMTs Alex Richoux and Kaitlyn Boudreaux's home in Bayou Blue had roof and siding damage. As they worked during the week after the storm, they were grateful to have a place to take a shower and do their laundry.
"This is just one less thing to worry about," Richoux said. "I am so grateful for Acadian. They're definitely taking care of us. They're feeding us. We got a place to shower and do laundry."
Acadian Chairman and CEO, Richard Zuschlag, said, "I've always been proud of Acadian's 'can do' attitude, and I continue to be impressed and inspired by the compassion and dedication of our employees to each other, along with our patients and the communities we are blessed to serve."
The company's forward operating bases remained active for weeks, until commercial power and water were restored.
And as Acadian does each time, team members debriefed, made any refinements necessary and started to get ready for the next storm.