Officials: San Diego hepatitis A outbreak spreads to Utah
Infected workers may have exposed customers at two Salt Lake City area restaurants and a convenience store, authorities said
---
Associated Press 
SPANISH FORK, Utah — Thousands of people may have been exposed to hepatitis A in Utah amid a widening outbreak that originally spread from a large epidemic in San Diego, health officials said Wednesday.
Infected workers may have exposed customers at two Salt Lake City area restaurants and a convenience store, authorities said.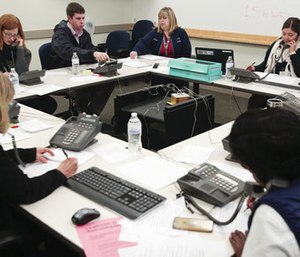 All three locations were linked to a Utah outbreak that began in August among Salt Lake City's homeless population and illicit drug users.
Tests connected it to an outbreak in San Diego that killed 20 people and sickened hundreds more, said Salt Lake County Health Department spokesman Nicholas Rupp. It was the worst epidemic of its kind in the US in 20 years. California officials have said the San Diego epidemic has eased but is not over yet.
Utah officials believe the disease spread as people moved between homeless centers in the two states, Rupp said. Utah has confirmed 152 cases so far and no deaths have been reported.
Hepatitis A is an extremely contagious liver disease spread easily through contaminated food and water or sexual contact.
Homeless people are especially vulnerable because they often don't have easy access to sanitation, Rupp said. Outbreaks in Arizona and Colorado have also been linked to San Diego, he said.
People can also spread it long before they know they've been infected because it has a long incubation time of up to seven weeks.
Anyone who might have been exposed is urged to contact health officials, and possibly get vaccinated.
A Sonic Drive-In and an Olive Garden in the Salt Lake City suburb of Spanish Fork each had an infected employee working in late December, possibly exposing hundreds and possibly thousands of people, said Utah County Health Department spokeswoman Aislynn Tolman-Hill.
As many as 2,000 more people could have been exposed by an employee at a 7-Eleven store in the Salt Lake City suburb of West Jordan. No confirmed cases have been linked to any of the three locations yet. The time period where people might show symptoms in the West Jordan case is only just beginning, Rupp said.
Representatives from Olive Garden and 7-Eleven said in separate statements they have thoroughly sanitized their facilities in coordination with health officials and won't allow infected employees back to work until cleared by a doctor. Both restaurants said they're also vaccinating all their workers as a precaution.
Sonic said their employee wasn't aware of being infected, and has since left the drive-in. They say the location has a good inspection history and is working with the health department.
Frequent hand-washing helps prevent infection. The hepatitis A vaccine is typically given to babies starting at age 1, and has been a requirement for kindergarten entry in Utah since 2002.