Conn. EMT accused of kidnapping co-worker had 'list' of rules for his ex, records show
The woman described to investigators how he beat her, controlled their relationship and frightened her father
---
By Lisa Backus
New Haven Register
BRIDGEPORT, Conn. — A Connecticut EMT accused of kidnapping a female co-worker he previously dated had a "list" of rules that included "no leggings" and "no skirts" for another former girlfriend whose house police say he broke into in 2019, court documents show.
In interviews with investigators, the woman described how Bradley Doyle beat her and controlled their relationship before he barged into her family's Wallingford home in an incident that scared her father so much that he now sleeps with a knife beside his bed, according to the court documents.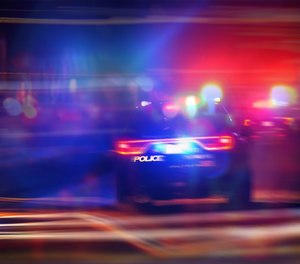 Doyle, 22, of Milford, is now being held on $1 million bond on charges related to a February incident involving another woman. Police said Doyle, an EMT at American Medical Response, kidnapped and carjacked a co-worker he previously dated at gunpoint outside the Bridgeport facility on Feb. 23. AMR said Doyle was suspended after the February incident, but has not responded to questions about whether the company was aware of his 2019 arrest.
An incident report shows Doyle led Connecticut State Police troopers on a chase in the kidnapped woman's car through several towns before he was apprehended about an hour away in Haddam. The woman was not harmed and police said they recovered a gun Doyle ditched along the way.
Hours after his arrest, a New Britain Superior Court judge reiterated his opposition to Doyle's requests for a diversionary program that could dismiss the charges in the Wallingford case.
The Wallingford charges were transferred from New Haven where the more serious cases from that town are normally heard to New Britain because Doyle's uncle is New Haven State's Attorney John Doyle. Questions about the charges and John Doyle were directed to a spokesperson for the state Division of Criminal Justice who confirmed the case was transferred to avoid a potential conflict of interest.
Doyle's pending cases have all been transferred to the New Britain court where he is scheduled to appear on Thursday.
Court documents filed in February 2022 by Senior Assistant State's Attorney Christopher Alexy with the Office of the Chief State's Attorney indicate Doyle showed up "smiling" with a gun and knife at the Wallingford home of a former girlfriend in August 2019 in an attempt to barge his way inside.
The woman's father was able to slam the door on Doyle and prevent him from accessing the home as others called police, court documents stated.
Doyle's father, Chris Doyle, identified in court documents as a Milford police officer, met him a few miles away at a party where Wallingford and West Haven officers also arrived after being alerted about him carrying a gun and knife, the court documents stated.
Chris Doyle could not be reached for comment.
Bradley Doyle was allowed to leave the party and was eventually arrested on a warrant charging him with attempted burglary, disorderly conduct and making a false statement.
The woman had broken up with him a few months earlier and he had been told not to contact her again, court documents show. Her father now sleeps with a knife by his bed, the woman wrote in a letter opposing Doyle's application for acceleration rehabilitation, according to court documents.
"I beg for justice not to allow this man to go unpunished," she wrote in the letter.
During several interviews with police, the woman told investigators she began dating Doyle in 2018 and he established a "list" of rules he expected her to follow, Alexy said in the court documents.
The list included who she was allowed to have contact with in person and on social media, what she was allowed to wear — "no leggings, skirts or ripped jeans" — and she was required to send him a photo every morning to prove she was dressed appropriately, the court documents said.
In 2021, the woman told Wallingford Police Detective Sean Houlihan that she "wasn't allowed to make any decisions herself" and she "feared the consequences of violating the rules" or doing anything else that would anger him because it led to threats and physical abuse, the court documents said.
The woman said Doyle hit her in places that were easily hidden such as her stomach or legs and threatened to kill her or told her to kill herself, the court documents said. At one point while they were dating, Doyle showed up at her school and told her to get in the front seat of his car, she said during the 2021 interview with police, according to the court documents.
Doyle was carrying a BB gun, handcuffs, pepper spray, knife, duct tape, cable ties and an 8-foot length of rope, according to an arrest warrant. He then pulled out a large hunting knife and said, "you know what this is for" as he pressed the tip against her thigh, the court documents said.
"Sobbing, she asked repeatedly for him to just take her home or at least to stop and let her out, which he refused," the court documents said.
Doyle took her to his house and locked her in his room with a collection of knives and a crossbow for a period of time before he gave her back her cellphone and let her leave, the court documents said.
The incident was similar to one that occurred four years later in the weeks before the Bridgeport kidnapping, an arrest warrant shows.
Two weeks before the Feb. 23 incident, Doyle refused to allow the AMR co-worker he dated months earlier to leave a party and forced her at knifepoint to drive around Bridgeport, the warrant said. The next day, he refused to allow her to leave his parents' home, she told investigators, according to the warrant.
The woman's sister called Doyle's mother, who helped her escape the home, the warrant stated. However, the mother pleaded with the woman to not report the incident because "it would ruin Bradley Doyle's life," the warrant said.
Two weeks later, Doyle kidnapped the woman while carrying carrying a BB gun, handcuffs, pepper spray, knife, duct tape, cable ties and an 8-foot length of rope, according to an arrest warrant.
State troopers and Bridgeport police have charged Doyle in connection with the kidnapping and pursuit. The charges include robbery by carjacking, first-degree kidnapping, first-degree unlawful restraint, first-degree threatening and first-degree reckless endangerment.
___
(c)2023 the New Haven Register (New Haven, Conn.)
Visit the New Haven Register (New Haven, Conn.) at www.nhregister.com
Distributed by Tribune Content Agency, LLC.
McClatchy-Tribune News Service