NY charities donate supplies to Puerto Rico, Virgin Islands responders
The United Jewish Appeal Federation of New York and the Afya Foundation have brought $3 million worth of aid to both territories
---
By Brian O'Connor
The Virgin Islands Daily News
ST. THOMAS — Officials with a New York-based charity group flew some much-needed relief into the St. Thomas Jet Center on Wednesday.
The relief flight was part of a joint effort between the United Jewish Appeal Federation of New York and the Afya Foundation, also headquartered in New York.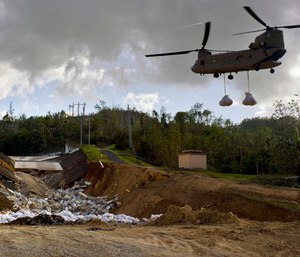 The two groups have made 10 flights to Puerto Rico in the wake of Hurricane Maria, and as of Wednesday made their second trip to the U.S. Virgin Islands. So far, the federation has brought $3 million worth of aid to both territories.
Among the supplies the groups brought were about 1,000 doses of the tetanus vaccine and other prescription medication requested by staff at Schneider Hospital. The Afya Foundation specializes in bringing medical supplies to communities recently stricken by disaster, said Danielle Buton, the foundation's founder and executive director.
"What we did was we just started literally calling the Department of Health for St. Thomas to get a really good partner here, because we wanted to have an impact," she said.
In addition to the medical supplies, the trip also brought needed community relief, said Mark Medin, the federation's executive vice president for Financial Resource Development.
The federation, part of the Jewish Federations of North America, is analogous to Lutheran Social Services and Catholic Charities. The United Jewish Appeal Federation of New York is working with the Hebrew Congregation of St. Thomas to bring in aid targeted toward the wider community, Medin said.
"The highest level of Jewish philanthropy is to help people in need, and in this case there's tremendous need beyond the Jewish community," he said.
The supplies are needed, officials with both the V.I. Health Department and the Hebrew Congregation said.
Tai Hunte-Ceasar, the V.I. Health Department's medical director, said she was excited about a subset of medical supplies used to replenish the department's emergency medical technicians.
"For our first responders on the road, these are the things that we need because we are having more and more calls," she said.
Those supplies include materials needed to treat patients in acute need, like respiratory or cardiac distress, Hunte-Ceasar said.
The supplies delivered Wednesday will be divided among the islands, said Deputy Medical Director Nicole Syms. Some of the items were destined for pre-packaged kits distributed to those in greatest need, Syms said.
"Everything that we receive, we try to make sure that we split that, St. John and even Water Island, because their needs are very significant," she said. "There are portions of St. John that we haven't been able to get to. There are portions of St. John that aren't able to get to us in terms of care."
Hunte-Ceaser said baby supplies, like formula and diapers, were especially in demand.
"When you go to the different areas, like Kmart and different places, we still have our challenges with what we have," she said. "So even me, as a mom, I'm trying to go and get pull-ups and things like that for my child, and I'm having difficulties."
Based on past efforts, the Hebrew Congregation will be able to put the material to good use, said Rabbi Michael Feshbach. His group has been working alongside other community groups to distribute needed items. Volunteers had already distributed about 100 generators in the Tutu Hi-Rise and the Estate Bovoni Apartments housing communities.
"Many people had barely had a chance to get out and not had that good of access to stores," he said. "We were greeted with hugs and tears and great gratitude. The synagogue has always been an integral part of life on St. Thomas. The island has always supported us, and I believe over time, vice versa."
Copyright 2017 The Virgin Islands Daily News