35 injured after Virginia bus overturns
The bus was transporting college students to three Virginia campuses
---
Associated Press
RICHMOND, Va. — A charter bus carrying college students to three Virginia campuses overturned, leaving one person seriously injured and 35 others aboard with minor injuries near the close of the holiday weekend.
Virginia State Police spokeswoman Corinne Geller told The Associated Press there were no reported fatalities after the bus overturned Sunday evening on an exit ramp of the Powhite Parkway in North Chesterfield County just south of Richmond, the state capital.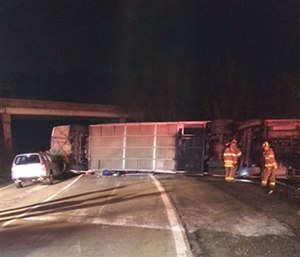 State Police said in a statement that the driver lost control on a curve on the ramp and the bus overturned on its side. The bus, operated by Abbott Bus Lines of Roanoke, had 50 passengers and the driver on board when the crash occurred about 7:15 p.m., a police statement said.
Approximately 34 of the passengers and the driver were taken to Richmond area hospitals to be treated for minor injuries while one passenger was treated for serious injuries, authorities said.
The passengers were mainly students picked up in Richmond who were returning to campuses of the University of Virginia, Virginia Tech and Radford University elsewhere in the state, police said.
The bus had initially picked the students up at Virginia Commonwealth University in Richmond and had as its first destination the University of Virginia in Charlottesville, according to the police statement.
The statement identified the bus driver as Thomas B. Chidester, 58, of Salem, and said he has been charged with reckless driving by State Police. He could not be immediately located for comment.
State Police said a motor carrier safety team had gone to the crash site, where the Powhite Parkway connects with another parkway just southwest of Richmond, to conduct a safety check on the bus. Police said the cause of the crash remains under investigation.
Local television footage showed numerous police and emergency responders at the site and reported lane closures for a time in the area. Local county law enforcement officers and other agencies had gone to the area and some remained for hours afterward.